Taking field services for building equipment operations and maintenance into the future with AI and IoT
Taking field services for building equipment operations and maintenance into the future with AI and IoT
In the last few years, Artificial Intelligence (AI) and Internet-of-Things (IoT) enabled solutions have experienced robust growth with the increasing demand for technology driving improved inventory management and higher field service productivity. AI in the retail sector is expected to expand at a "more than 30 percent CAGR" between 2021 and 2027, according to Global Market Insights, after surpassing $2 billion in 2020.
IoT is changing our world into an increasingly connected one on both user and commercial fronts. It is projected that by 2030, the total number of active IoT-connected devices will surpass 25 billion. The COVID-19 pandemic has further accelerated this rise through rapidly changing consumer behavior and desire for touchless and yet seamless customer experience.
The field service industry is rapidly transforming as this digital transformation reduces manual field service processes and workflows. For the field service industry, IoT-based platforms are currently playing a pivotal role. When it comes to the servicing of machinery, building equipment and parts - IoT is already enabling communications with service providers through real-time data feeds that flow through IP-based sensors, secured gateways and edge computing layers, allowing the field service organization to constantly monitor equipment behavior, including performance, operation environment and failure threshold of serviceable assets.
The fast-growing capabilities of IoT solutions in the industrial environment could push a paradigm shift in how field service operation was traditionally approached, thereby creating new opportunities as well as new business models for the service industry in the foreseeable future.
In this article, we explore how IoT- and AI-enabled digital platforms can be used to enhance businesses in the field service industry.
The conventional approach in field services
There are two potential field service strategies that are followed in most organizations:
Reactive approach (unplanned): Traditionally, equipment maintenance in buildings is highly reactive – relying on either user-based complaints or threshold-based alarms, that alert the building or facility managers only when there is a system failure or when building operations have already been interrupted. The facility manager, upon receiving an alarm, immediately calls for help and sends in-field engineers to fix the problem. The key issue with reactive maintenance is the wait until an equipment breakdown has occurred, and it takes a longer time and cost to fix it. It is always better to address a problem when it is small and manageable rather than wait until it has progressed to the failure stage.
Preventive approach (planned): This planned approach helps facility managers plan and manage periodic or scheduled inspections and maintenance to prevent early failure or breakdowns, avoid equipment performance deterioration and maximize equipment lifetime. Planned field service was meant to be the solution. However, despite having scores of information for planning field service, people still miss important deadlines, milestones and thresholds due to skill shortages and technician unavailability before the start of the peak seasons. And this leads to unplanned breakdowns. Hence, reactive maintenance remains prevalent, even though we theoretically have the means to prevent it.
IoT and AI-driven field transformation is the way forward
Many companies provide intelligent building automation solutions that bring together building systems to monitor, manage and enhance their building operation and performance. This combination of building automation with IoT monitoring and AI driven analytics provides predictive insights and actionable recommendations on various building equipment components and their systems.
These predictive insights transform field service into a proactive strategy, paving the path for predictive services in the future. Equipment downtime can be efficiently decreased through remote monitoring of IoT-enabled devices with connected equipment and predictive insights. AI and IoT technologies can provide a full perspective of the equipment life cycle failure and relevant recommendations to the field service team, allowing for faster service response times. In some situations, fixes can be made remotely, bypassing the need to arrange and dispatch an onsite specialist, allowing businesses to save money. Besides cost savings, it also saves the customer time and expense because repairs can at times be made even before the consumer is aware of a breakdown or suffers any consequences.
Using IoT technology, field service organizations can exceed their customers' expectations by providing an exceptional customer experience. In reality, IoT technology allows businesses to proactively service appliances or systems, avoid unplanned downtime for important assets and provide virtual service choices to customers. In other words, IoT reduces the friction generated by manual and antiquated processes in the service workflow, to better meet your customers' expectations. And, thanks to predictive maintenance, their demands are often satisfied even before they are aware that a need has emerged. As modern field service consumers come to anticipate this level of personalized and seamless care, your field service team will need a technological stack that can keep up.
Field service benefits through an AI and IoT platform may include: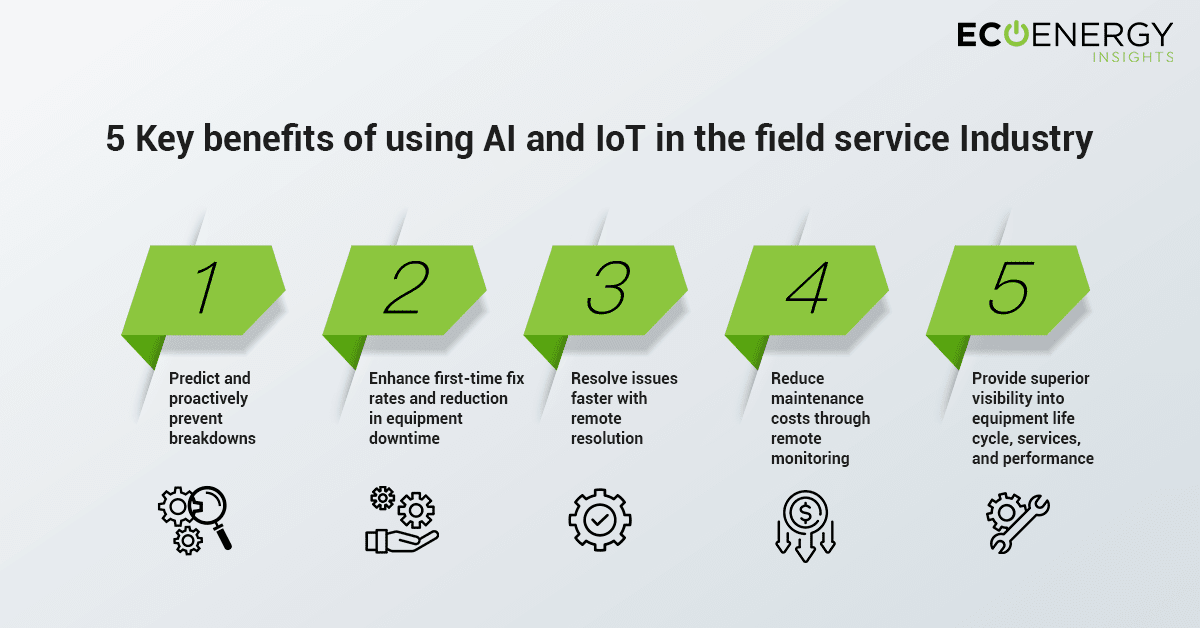 The capability to predict and proactively prevent breakdowns by detecting large equipment failures.
Enhanced first-time fix rates and reduction in equipment downtime rate through predictive recommendations from connected equipment.
Resolving issues faster with remote resolution capabilities by making necessary equipment tuning in the building automation system, without demanding onsite technician support.
Reduced maintenance costs through remote monitoring and preventing costly part failure replacement, and if onsite service is required, help to ensure that the right technician with relevant skills and equipment information is dispatched with the necessary accessories needed.
Providing superior visibility into equipment life cycle, services, and performance, maximizing stable operation of equipment and increasing customer satisfaction.
Take advantage of a IoT platform that can predict equipment behavior and either act on the predictions itself or prescribe recommendations in natural language for users to work on. Transform your field service operation today by using the CORTIXTM AI and IoT platform.
To learn more, email us at [email protected].
June
2022
Author
Yoganathan Murugesan, Manager, Industrial Practice at EcoEnergy Insights
Yoganathan leads the industrial practice solution of EcoEnergy Insights. He works on business strategies for various industrial segment for business expansion and support sales function. He is also responsible for offering AI and IoT based product solutions along with designing services for clients. Yoganathan is passionate for developing solutions that help clients reduce greenhouse gas emissions and improve overall facility energy efficiency.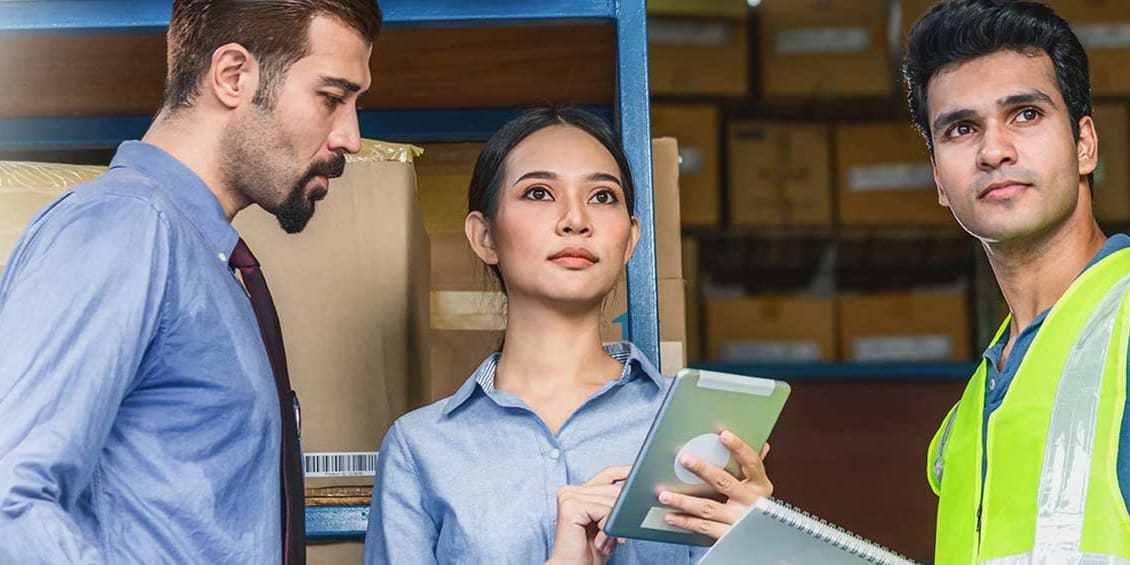 Five AI Applications for Retail Store Equipment...
SMART BUILDING, IOT PLATFORM, RETAIL
AI is transforming retail store equipment operations through multiple applications – and that list is only growing....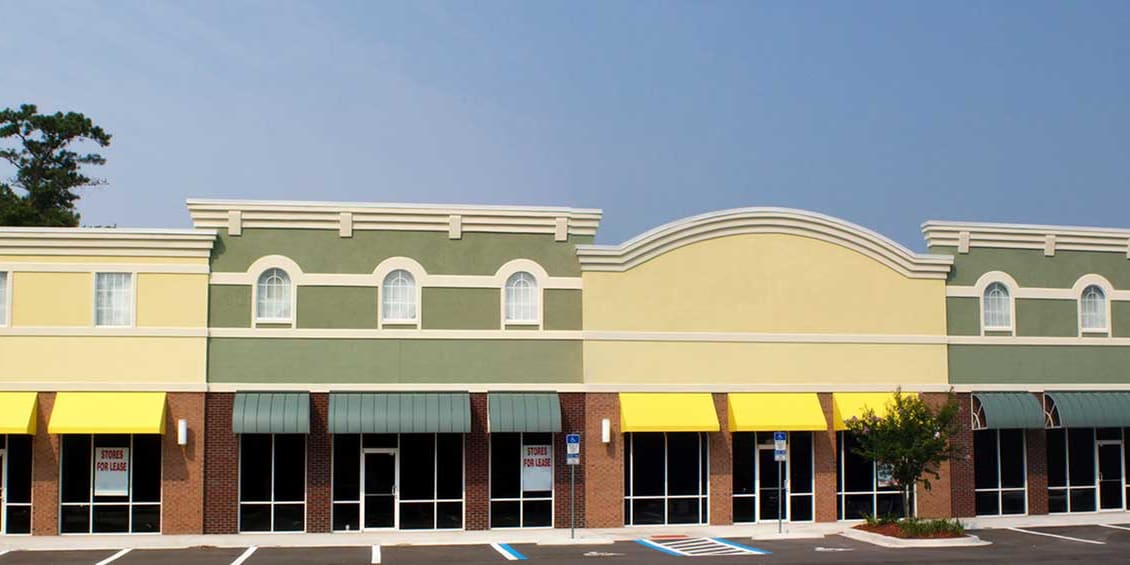 How IoT-based Smart Buildings Will Shape the Future of Multisite Retail Businesses
Hemachandran Venkatesan