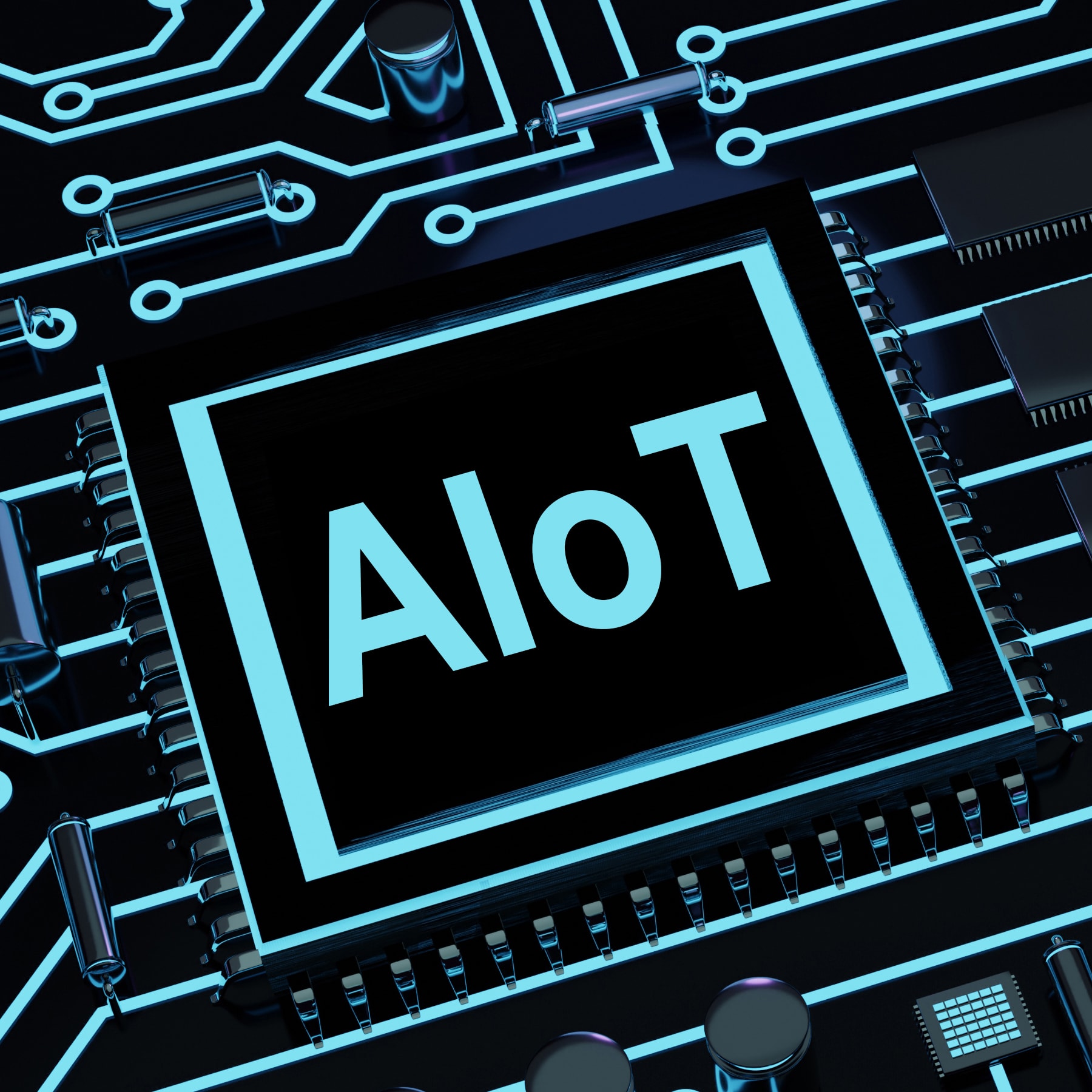 The Convergence of AI and IoT – AIoT: What's Next for Retail?
There will be 75 billion connected devices by 2025. In the future, the Internet-of-Things (IoT) will redesign daily living through smart cities, wearables, transport, healthcare, banking and other commercial industries.
Artificial Intelligence (AI) acts as the brain behind IoT, making sense of data and taking appropriate action. According to a study by Gartner, more than 80% of enterprise IoT projects will soon have an AI component – a 70% jump from 2017.
What does the convergence of AI and IoT mean?
IoT and AI have been buzzwords for more than a decade. But only recently they have started to appear together more frequently. IoT powers industries with smart sensors to collect relevant data, whereas AI aids in making data more meaningful, by analyzing and converting it into actionable insights. Hence, one is incomplete without the other. Together they are expected to expedite the digital transformation of various industries on a global scale.
The convergence of AI and IoT is commonly referred to as Artificial Intelligence of Things (AIoT). AIoT is AI-enabled IoT that enables improved understanding of the machines and pattern of their operations, thus rendering predictability, smarter controls and seamless connectivity resulting in appropriate, prompt and corrective actions with little or no human interference.
AI and IoT
For the uninitiated, IoT signifies sensors connected to machines, that sense and capture certain predefined parameters associated with the functioning of the machine and transmit that data over the internet.
The graphic below indicates five basic steps that all IoT systems inevitably follow. The last step indicates actions as a result of the outcome of analysis of the aggregated data. This is where AI kicks in to realize the inherent value of IoT. The more precise the analysis, the richer the insights, hence more efficient the decision-making.
AI encompasses a number of areas, including but not limited to predictive analytics. When connected to sensors and edge devices or smart equipment, AI technologies can collect, process and analyze volumes of data. Information thus processed is utilized in predicting and hence empowering the users with actionable insights in making accurate, data-driven business decisions, in most cases even before the actual problem occurs. In AI, the aspects of human thought-process and intelligence is replicated, thus building a system that is smart enough to make decisions.
How can AIoT reshape retail?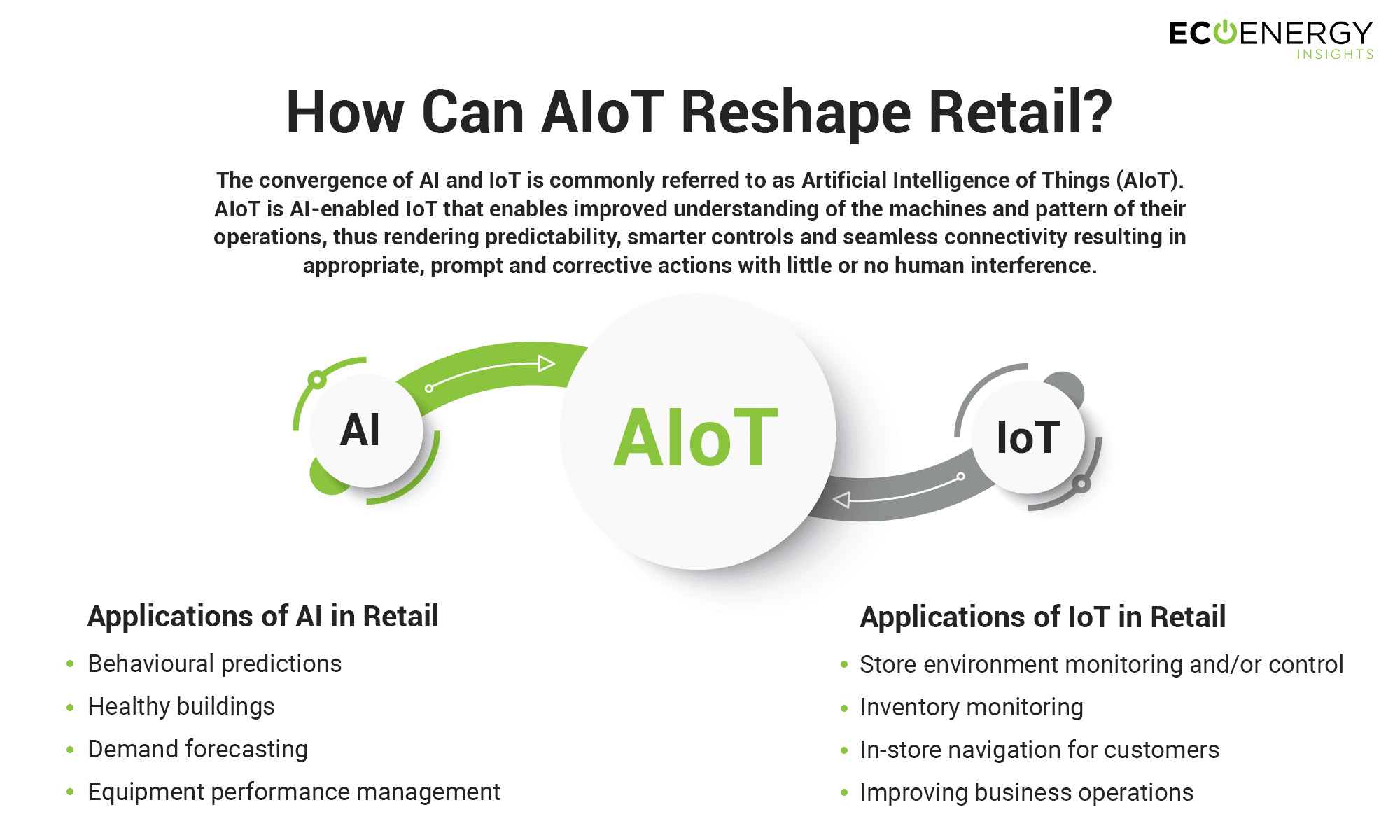 Retailers can improve their store operations by means of AIoT. By deploying sensors, smarter controls and increased sources of data (business and customer) collection, retailers can take advantage of the capabilities of the technologies. This can help them in achieving two fundamental objectives of improved customer experience and increased profits.
According to a report by SPD Group on The Value of Artificial Intelligence for Retail in 2022, one AI vendor claimed a 32% reduction in operational costs after implementing AI-driven solutions. In the same article, it said:
49% of respondents expect that AI will cut costs in the supply chain.
44% expect that AI will boost productivity.
43% are sure that AI will be a major factor in boosting revenue.
40% recognize the use of AI in retail decision-making as the main benefit of the technology.
Applications of IoT in Retail
IoT sensors and devices are now more accessible, more efficient and more economical than before and can be effectively deployed in retail stores or even in the retailer's warehouse based on monitoring and control requirements. Accordingly, the architecture and workflow of the entire system could be designed. Strategically and logically placed sensors across a store can detect and transmit various types of data over wired or wireless connections. All the data from the IoT devices is typically sent to a gateway device installed in-store, which then transmits this aggregated data to a server or on to the cloud. This data is then queried by the relevant business application tool to analyze the structured information to eventually generate insights for further action.
Most common applications of IoT devices in retail, connected over wireless network or Bluetooth include:
Store environment monitoring and/or control


Parameters such as temperature, lighting (including its intensity) and humidity of specific zones in the store.

Inventory monitoring


Product location, product condition (through temperature and other refrigeration parameters) and availability could be gathered from which the rate of sale could be deduced.

In-store navigation for customers


Locate the desired product by means of the mobile application which is fed by the data from the sensors, leading to quicker navigation and increased purchase rates thus providing customers with a digitized shopping experience of physical products.

Improving business operations


In the areas of security, staffing, inventory, supply chain and energy equipment management.
Security sensors gather information related to door armed/disarmed and help in communicating and monitoring and/or controlling other equipment such as emergency lighting, store security alarm system, HVAC systems, etc.
Smart equipment, including energy equipment management, detects information related to energy consumption; system availability, utilization and performance during occupied, partially occupied and unoccupied hours and also during an emergency like situation and transmits the data to the gateway for further processing and analysis, as explained above.
Merits of deploying IoT in retail:
Switching to IoT-enabled devices for these systems can make the security systems more reliable, reduce energy consumption and thereby save a considerable amount of cost every year, improving performance and utilization of the energy equipment, reducing down time and also the maintenance costs.
Just with refrigeration alone, a large retail chain can lose billions of dollars annually on wasted or spoiled food due to inefficient storage systems and legacy refrigeration systems.
Monitoring customer's purchasing patterns through the IoT devices for in-store products helps in effective inventory management and switching to dynamic supply chain management, based on various influencing aspects such as seasonality, offers, market intelligence, new product launches, etc. This further closes the loop with extension of the same to management in warehouses and logistics as well. IoT devices enable live tracking of the quantity, quality and time for delivery.
Overall IoT empowers retailers to digitally transform the operations to the extent of complete visibility on their palms, while on the go and control to a significant extent.
Applications of AI in Retail
The retail industry continues to stay dynamic and rely on an ever-transforming set of operational guidelines - one that can be identified with data-driven retail experiences and increased consumer expectations. As digital and physical purchasing channels blend into one, to set themselves apart, the retailers must consistently innovate channels. AI helps them achieve that in more ways than one.
Some of the most common applications of AI in retail are:
Behavioral predictions


Behavioral profiling of customer is done not only on purchase history, but also on the predictive parameters such as social events, seasonality, market trends, etc. to provide precise recommendations and personalized promotional offers.

Healthy buildings


Monitoring and tracking various aspects of store environment and occupants such as store temperature, foot fall, fresh air flow and filtration, humidity, carbon dioxide concentration, zone density, weather, etc., could help in maintaining healthy and comfortable store environment.

Demand forecasting


Leveraging contextual data to build models that improve forecast accuracy and avoid any guesswork in identifying and tracking inventory of products, especially the ones with lower shelf life, based on the inputs received on foot fall trend at store, local events, weather conditions, store environment, etc. and providing recommendations for optimal stocking of inventory and flagging off in case of pile up and well before they reach their expiry date.

Equipment performance management


With the ability to communicate and control the connected equipment, it could not only help in efficient maintenance of the equipment and reduce operating and energy costs, but also ensure policy compliance and occupant comfort. This is achieved through data-based insights and predictive analytics of the equipment performance.

Conversational chatbots for customer service


Simulate human conversation based on Natural Language Processing to provide personal assistance to customers based on accessible data such as product details, availability, events, offers, procedures, pricing, store information, etc., thus avoiding human intervention and associated overheads, while providing precise information to the customers.

Guided In-store assistance


With IoT aided inputs and app-based assistance, customers can navigate through the store efficiently and benefit from the in-store promotional offers based on their preferences. Based on the inventory integration, customers can also check on the availability of a specific product in the store.
While all these applications are immensely beneficial, one way or the other, in understanding customer behavior and to improve retailer's in-store experience, the application that is relatively easy to control and with most tangible results is energy systems management, which smartly manages Heating, Ventilation, Air Conditioning & Refrigeration (HVACR) systems in smart commercial buildings. Managing HVACR equipment in retail stores better allows retailers to optimize operations (like enabling remote services for predictive maintenance), offer superior customer experiences and reduce wastages.According to industry source "Iot For All", inclusion of IoT in the HVAC industry is set to revolutionize the outlook of air conditioning. With the use of the layer of AI on top of that, more refined and self-learning algorithms can pave the way for smart and efficient retail stores and facilities.
Conclusion – AIoT is the future of Retail
It is no more a luxury to have automation and data-based intelligence for the retailers of today. It has become the go-to tool for survival in this fast paced digitally disruptive world, where most of the customers prefer shopping online. The reason why it is so compelling for most of the retailers to embrace and evolve with AIoT is that it not only gives them the insights into understanding the who, what, when, where, how much, how often of which product do the customers want, a treasure trove in itself, but also provides them with the cost-cutting edge to translate the savings from smart and efficient operations into providing customers with competitive prices along with a rich experience in a digitally improved store.
It is no more a choice, but an obligation to move forward by embracing AIoT – the edge lies with those who embrace and effectively implement the smartest and futuristic technology available today, to stand out tomorrow.
March
2022
Author
Yudhajit Tornekar Manager, Pre-Sales, EcoEnergy Insights
Yudhajit Tornekar manages pre-sales at EcoEnergy Insights. He is responsible for designing outcome-based services and packaging AI-enabled, IoT solutions for clients. He works on strategies for business expansion and supports sales and client engagement processes. Tornekar has a passion for sustainable practices and driving efficient energy utilization in buildings.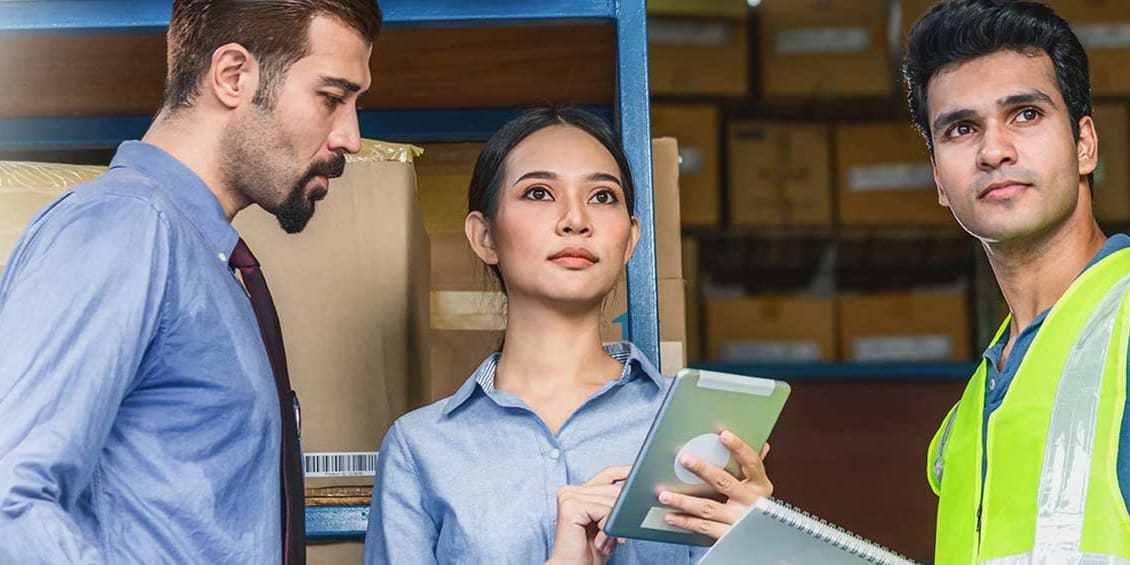 Five AI Applications for Retail Store Equipment Operations
Shawn Menezes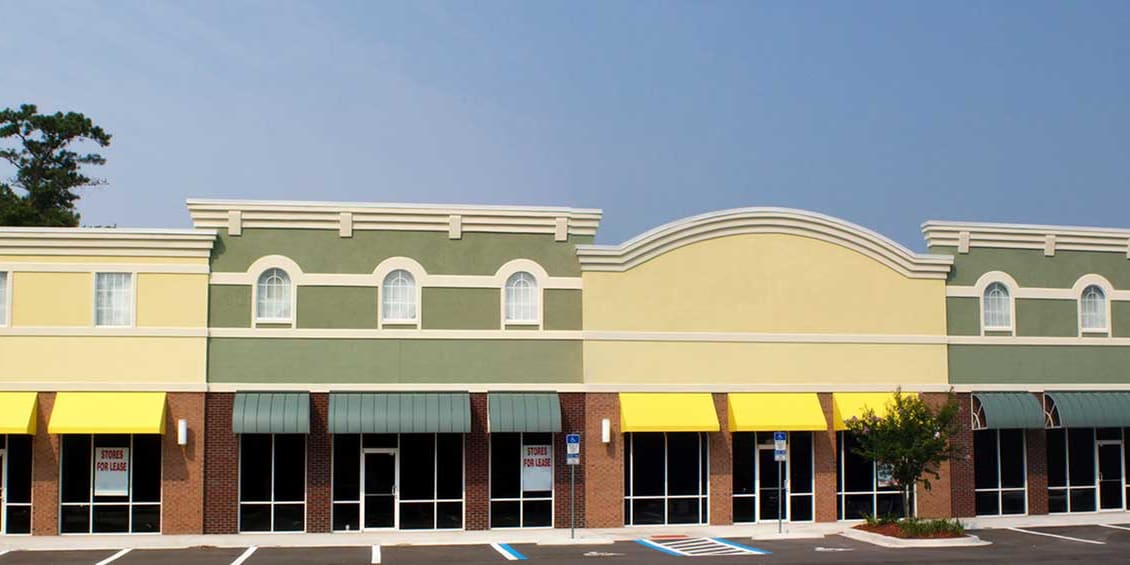 How IoT-based Smart Buildings Will Shape the Future of Multisite Retail Businesses
Hemachandran Venkatesan