Retailers can get more out of their store equipment data with IoT
Retailers can get more out of their store equipment data with IoT
In the increasingly competitive retail industry, a pleasant store environment is essential for preserving and growing sales. Multi-site retailers have typically been investing in building management systems (BMS). A BMS connects to equipment and sensor data and allows users to monitor room temperature, humidity, occupancy, lighting, and mechanical systems, and then use that information to save energy and create a comfortable retail atmosphere.
Unfortunately, due to unnecessary overrides, bypass by untrained service staff, and in some cases mechanical failures, installing BMSs alone in retail stores will not be enough for a retailer to manage operations acrossa network of stores. Retailers can uncover further value from their building management systems investments using the Internet of Things (IoT) technology.
IoT technologies are now increasingly found in structures of all types and purposes. In general, such technologies can be used with traditional building-centric solutions to enable capabilities such as automation and remote monitoring of important and widely dispersed infrastructure.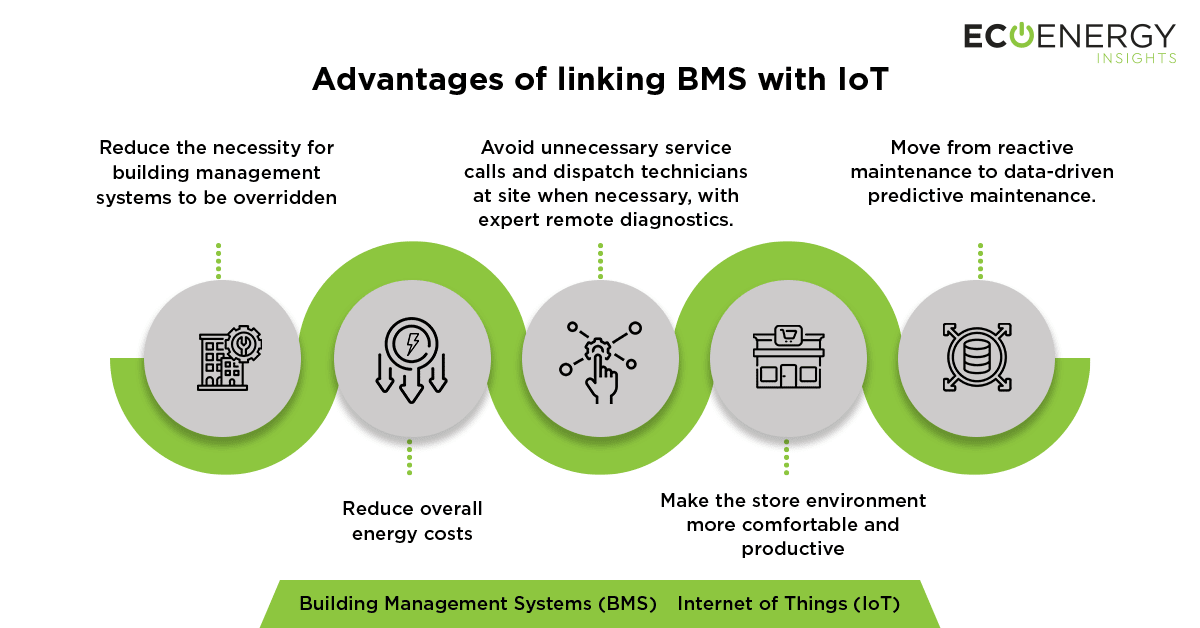 Enforcing policy adherence is easier with IoT
When it comes to enterprise- level policy adherence, concerns like temperature, lighting, indoor air quality, store operation automation and other factors that affect the customer experience, equipment operating efficiency and staff productivity, facility managers will go to great lengths to remedy the problem. Sometimes store managers circumvent and override a BMS in order to achieve a "quick fix." As a result, retailers
Face increased energy costs (due to lighting, ventilation and temperature policy overrides).
Have to reconfigure the BMS to fix a bypass, which results in unnecessary maintenance costs.
Experience inefficient operation (which leads to a reduction in equipment life).
Have to continuously train staff to avoid overriding the systems.
IoT Platforms can increase business efficiency
Subsystems are found commonly in commercial buildings. To mention a few, a typical commercial structure can have access control, battery systems, air conditioning and ventilation, surveillance, and diesel generators and, uninterrupted power supply (UPS) to power up critical infrastructure. Typically, there are several vendors of equipment and generations of equipment models in a multi-site rollout. Each of these requires customized on-site configuration, or hardware bridging of technologies, to enable consistent monitoring and control.
This level of communication complexity increases the cost of site development and introduces new points of failure. Separate software packages are frequently required to monitor each machine.
By packaging and standardizing all subsystem data, this technology removes data silos in buildings.
At their core, IoT platforms are designed to handle a wide range of data at a large scale – not to mention the ease with which they can be set up and expanded. To connect the hardware, IoT platforms don't rely much on on-site commissioning or special programming; instead, they can pull data from hundreds of in-building protocols and subsystems – and usually allow for cloud-based provisioning, management, and monitoring. The added benefit is the enormous management and monitoring flexibility that can adapt to changing data needs over time.
By collecting, organizing, and delivering all important data from all linked sites and accompanying connected hardware, IoT platforms enable consolidation of technology data silos.
Link BMS with IoT to Improve Store Operations
Leading retailers are combining a BMS with an IoT solution that continuously monitors sensor data and takes proactive action when comfort factors (e.g., space temperature, humidity, air pressure) are out of tolerance or equipment is not functioning properly.
An IoT solution can be used to detect anomalies before they negatively influence consumer comfort and, in conjunction with an integrated facility management system, instantly generate a repair order and send it to a qualified building specialist who can assess the problem and take appropriate corrective action.
There are various advantages to managing retail store operations proactively:
Reduce the necessity for building management systems to be overridden.
Reduce overall energy costs. (Over the past 5 years, EcoEnergy Insights has delivered approximately 5% to 23% in annual energy savings to multi-site customers.)
Make the store environment more comfortable and productive.
Expert remote diagnostics can help retailers avoid unnecessary service calls and dispatch technicians at site when necessary. (Our BluEdge™ Command Centers have remotely resolved up to 93% HVAC and lighting issues for a retailer in one month)
Move from reactive maintenance to data-driven predictive maintenance.
Conclusion
There is little doubt that the use of IoT in retail will continue to grow as we enter the second half of 2022. More and more retailers are discovering that IoT may help them improve business performance and elevate building operations to address indoor air quality, occupant comfort, productivity, and operational efficiency. Businesses must embrace the idea of using IoT technology for store operations and begin planning for its application.
EcoEnergy Insights offers retailers the ability to connect their BMS to the cloud, enabling them to tap into advanced technology like Artificial Intelligence (AI) for predictive insights and experience proactive remote support from the Command Centers to better manage store equipment operations. This enables them to maximize their investments in a BMS and take the next step in their modernization journey. Reach out to us for more.
September
2022
Author
Ashish Jain, Senior Manager, Solution and Energy Management at EcoEnergy Insights
Ashish is responsible for architecting IoT solutions and implementing strategies to deliver tangible values for Multisite chains. He is keen on exploring and implementing cost-effective intelligent IoT Infrastructure.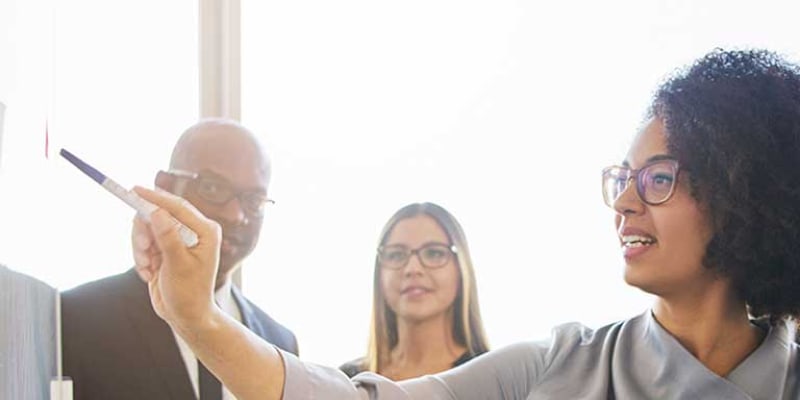 How Retailers Can Establish an IoT-based Smart Building Strategy
Parminder Singh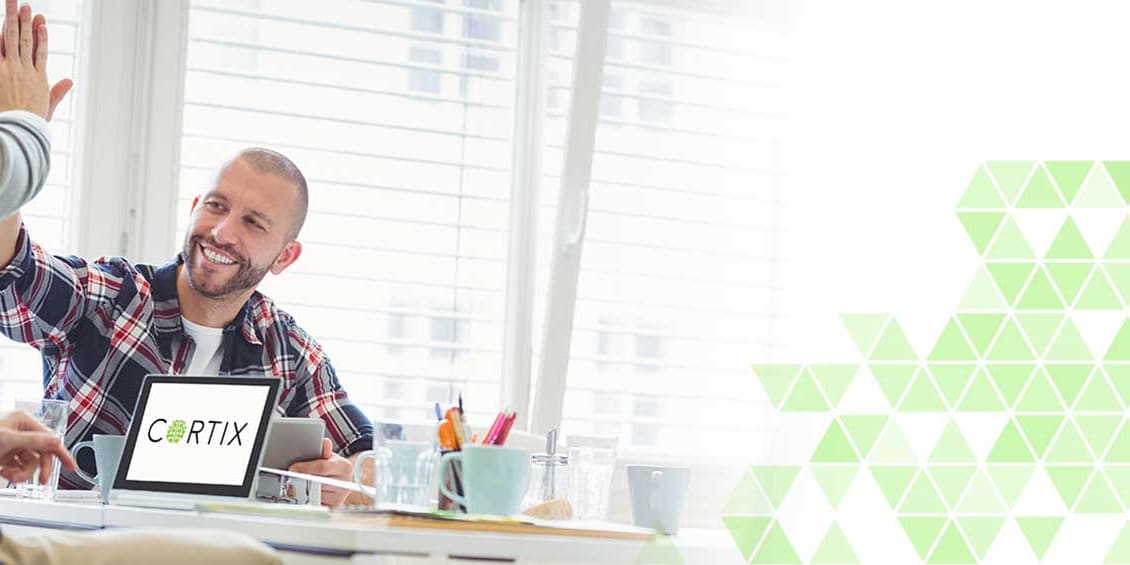 4 Things We Can Learn from Retailers Using the CORTIX™ Platform
Ashutosh Sinha