IoT is the Way Forward for a Future-Proof Retail Business
IoT is the Way Forward for a Future-Proof Retail Business
According to a Digital Commerce 360 review of US Department of Commerce data, offline sales accounted for more than three-quarters of overall retail expenditure growth in 2021, or 80.7%, while eCommerce accounted for the remaining 19.3%. This is in contrast to 2020 when many businesses were closed and health-related concerns kept buyers away from physical stores, internet shopping accounted for the majority of increased retail dollars spent. Back then, digital revenue accounted for more than two-thirds of retail gains (69.1%), with offline expenditure accounting for the remaining 30.9%.
So, while there is an increase in eCommerce over 2019, there still is 'demand' to walk into physical stores, and retailers need to pull out all stops to ensure such stores not only provide a great indoor experience but are also cost-effective. Consumers' buying behavior has shifted for good and retailers need fresh strategies that ensure their survivability in a fast-changing world of technology. That's where the Internet of Things (IoT) technologies play a major role.
As the IoT solutions become more integrated with mission-critical services like HVAC systems, smart grids, and emergency alert systems, traditional commercial buildings are becoming increasingly smarter.
This sentiment is also reflected by the exponential increase in adoption of IoT implementation by retailers post-pandemic. According to another study by Markets & Markets:
The global IoT market is projected to reach $35.5 billion by 2025.
The growth in the market cap can be attributed to declining costs of hardware like sensors, chipsets, RFID tags, etc.
Customer demand for a seamless experience is set to further drive the growth of the IoT retail market.
IoT-based Solution for a Long-Term Competitive Advantage
IoT is gradually making its way deep into the retail territory. IoT deployment has been used by a variety of brands and enterprises in their retail outlets, and they are increasingly redesigned to be more interactive with their customers. Since 2017, we have seen traditional brick-and-mortar stores working with wearable, smartphone, and Bluetooth devices for marketing and promotion.
According to a survey published by ResearchAndMarkets.com, the global market for IoT is expected to reach nearly $95 billion by 2025. The potential for retail brands to delve into IoT is imminent, given the estimates of the increase in devices and industry size.1
Ways in which IoT may enhance your retail business are multifold but below-mentioned are a few of the scenarios that could aid the future-proofing at its core: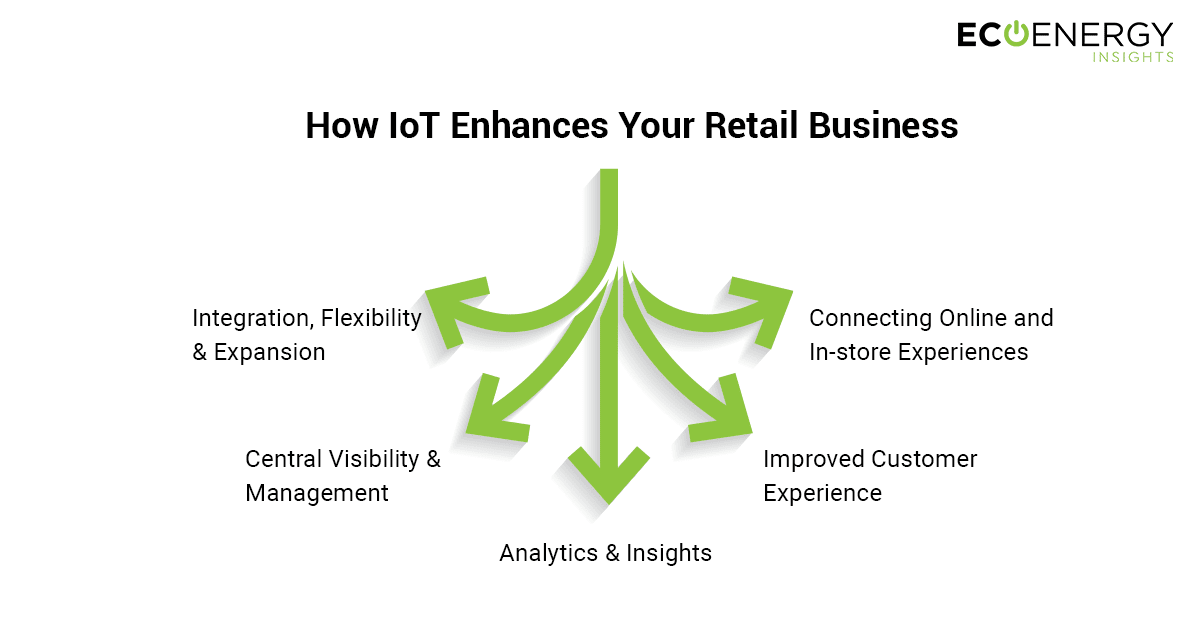 Integration, Flexibility & Expansion: Designing the most appropriate IoT solution, based on the present nature of the business and future vision for growth, is the key to making it future-ready. This includes, but is not limited to, choosing an open-source Building Automation /Management System that enables connectivity to multiple brands across various systems (HVAC&R, Lighting, Security, Business, etc.) and is capable of supporting expansion to future upgrades and other systems. Wireless connectivity further enhances the in-store aesthetics and provides added flexibility to any possible structural changes thereby avoiding the need for frequent rewiring, in case of an internal restructuring of the store.
Central Visibility & Management: IoT is pivotal in enabling access to the operational and functional data associated with various systems within the store, such as HVAC&R, lighting, security, inventory, resources, business, etc. This in turn empowers the retailer with a robust experience of not just the enterprise-wide store level visibility but also with a granular equipment level functional view. It further unlocks the possibility of remote monitoring and/or control of the connected devices. Inventory is another area where IoT adds a layer of traceability and management thereby helping the store managers effectively monitor the products on the shelves and in the inventory, on-time stock replenishment, and more. Further technology integration could enable sending automated reports or provide real-time dashboard-based visibility for taking prompt actions and improving financial and supply chain management.

Analytics & Insights: While Monitoring and Control of the store equipment happen to be the primary use case of IoT, a secondary yet strong use case is collection of the data sourced from various IoT devices. The richness and importance of potential insights that could be churned by analyzing that data, or rather the Big-Data, cannot be emphasized enough. Data from various systems are read by the IoT devices and then could be stored locally on an on-premises server or transmitted to a cloud over the internet. This could further be analyzed manually or fed into an intelligent platform for analysis and subsequent generation of prioritized, actionable insights that could be shared with the team and support teams like vendor partners through automated reports or dashboards.

One such use case for the insights is Predictive Maintenance of store equipment, especially for HVAC and refrigeration, where uptime of equipment is critical for the retailer to ensure customer comfort and avoid food loss.

Improved Customer Experience: In-store customer experience is the top priority for any retailer, and IoT devices aid in enhancing the same, both directly and indirectly. The direct benefit of the IoT devices could be seen prominently in the form of sensor-based lighting, temperature control based on the zone and outside air temperature, refrigeration alarms, stock monitoring, indoor air quality (IAQ), security management (door open/close indication), parking assistance, resource management, and point of sale (PoS) queuing assistance. Indirect benefits of the IoT devices, derived through the analysis of the data that is sourced from them, are temperature compliance monitoring across various zones in the store and for refrigeration cabinets, lighting schedule compliance monitoring, inventory analytics, energy consumption analytics, HVAC equipment performance analysis, operations monitoring and analysis, security monitoring, maintenance analytics and in studying instore customer preferences. One such use case is store managers can identify premium store areas, test the placement of different types of merchandise in those spots, and figure out the most efficient layout, thanks to the insights from the data gathered by sensors and possibly through video analytics. Over time, these reports get even more efficient as a self-learning intelligent analytics algorithm learns more about the operations, thereby assisting retailers to deliver a seamless customer experience.
Connecting Online and In-store Experiences: With the rise in demand for online shopping in recent years, customers are still drawn to the retail stores, mainly for the experience of shopping and the touch-n-feel factor associated with it. Hence, it has become important for omni-channel retailers to provide a uniform customer experience in both modes of shopping. This could be achieved through IoT devices by enabling customers access to real-time stock availability in the store, providing in-store navigation assistance, facility to load their shopping carts online and continue shopping or try them in the store; and many more loyalty and branding strategies. For example, if a customer has online access to the information on the variety and availability of a specific dress or a product within the store, it would rule out the uncertainty of finding the required product and could ensure a satisfactory in-store experience with minimal time spent. With advancements in technology, customized promotions could also be provided based on customer preferences and buying patterns and are guided towards the relevant isles for ease of shopping.
Conclusion
The fact that online retailers are better equipped to analyze consumer behavior with the use of easily retrievable data, gives them an advantage over their retail counterparts. Traditional brick-and-mortar retailers need to counter that with not only robust omnichannel support but an improved in-store experience.
With improving the bottom line being a top priority, retailers need to have consistent business with healthy margins. IoT offers retailers the ability to create aesthetically and experientially rich customer experience while being instrumental in reducing their operational costs and hence impacting their sustenance and profitability, positively.
The timing is thus perfect to launch IoT for multisite operations. There is a confluence of technology readiness, availability of skilled resources and vendors, and a growing need to offer an inviting yet healthy in-store environment to customers.
June
2022
Author
Yudhajit Tornekar Manager, Pre-Sales, EcoEnergy Insights
Yudhajit Tornekar manages pre-sales at EcoEnergy Insights. He is responsible for designing outcome-based services and packaging AI-enabled, IoT solutions for clients. He works on strategies for business expansion and supports sales and client engagement processes. Yudhajit has a passion for sustainable practices and driving efficient energy utilization in buildings.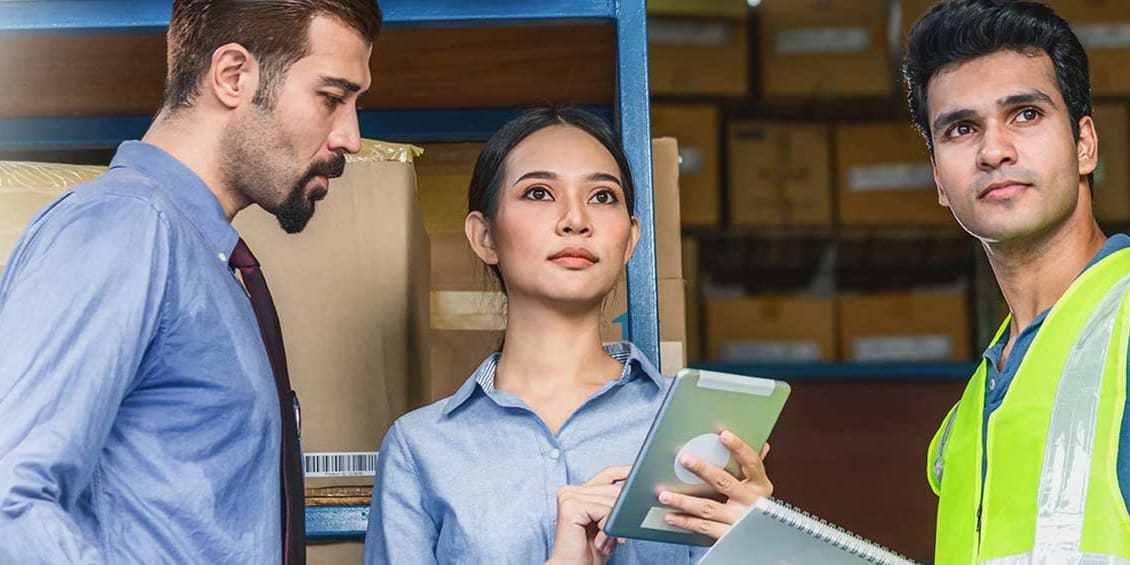 Five AI Applications for Retail Store Equipment...
SMART BUILDING, IOT PLATFORM, RETAIL
AI is transforming retail store equipment operations through multiple applications – and that list is only growing....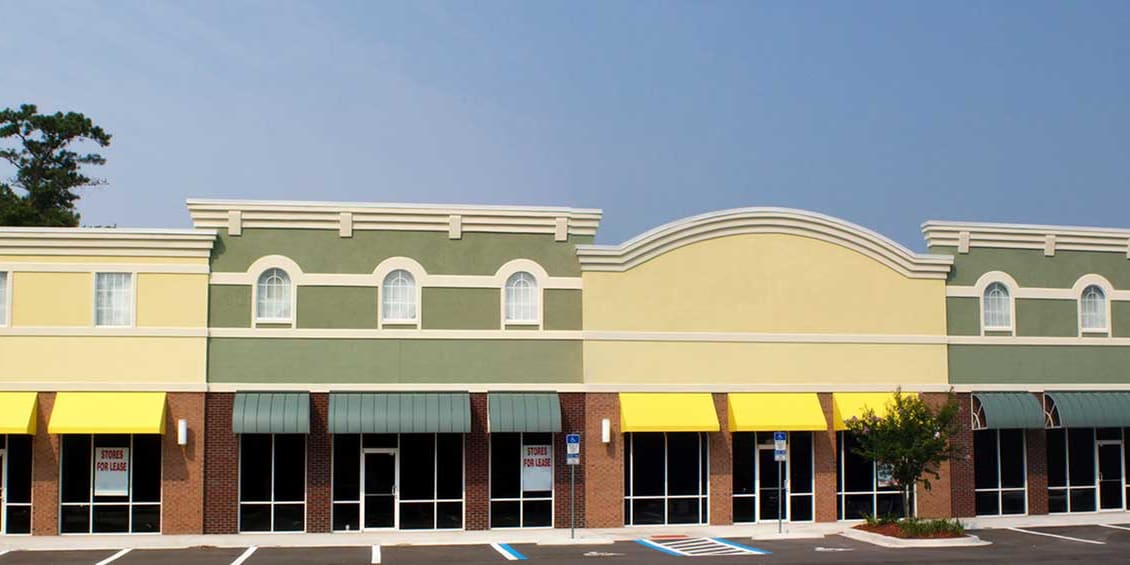 How IoT-based Smart Buildings Will Shape the Future of Multisite Retail Businesses
Hemachandran Venkatesan