How to manage change when using AI in retail operations
How to manage change when using AI in retail operations
Today, many retailers and multi-site operators are taking steps to improve their energy management and maintenance management processes. Smart Internet of Things (IoT) devices and data modernization techniques including sensors, controls, meters, Artificial Intelligence (AI) and software platforms allow retailers and other multi-site operators to transform their business processes and enable better access to insights from the analysis of collected data.
Large organizations are integrating AI into their businesses, resulting in an increase in solutions that include virtual assistants and chatbots. According to recent research, the worldwide AI market will be valued at $190.6 billion by 2025, with an annual growth rate of roughly 33.2%.
Retailers and other multi-site operators are investing countless dollars in IoT and AI technologies to improve store or building operation, but it will only make sense if the facilities' teams and associated vendors' teams fully leverage them. It is not just about implementing the systems; it's the human element of change that will make the overall program a success.
Managing change is difficult, and part of the problem is that there is little consensus on the elements that have the greatest impact on transformation programs. If you ask five executives to name the single most important aspect in these projects' success, you'll probably hear five different replies. That's because each manager approaches an initiative from a unique perspective, focusing on distinct success variables based on personal experience.
What is Change Management?
Change management is the discipline that deals with laying down the blueprint for a successful organization-level transformation by leading individuals, teams, and entire organizations through change. It combines behavioral and social sciences, information technology and business solutions.
It also helps to keep the human element of change at the forefront. Those responsible for implementing and operating the technology have to be at the center of the transformation. In order to influence behavior, experiences (sensory perception) need to be shaped, mindsets (feelings and decisions) need to be shifted and results over time need to be measured.
Why is Change Management Crucial to AI Implementation?
Including change management in the overall implementation plan will lower the risk of decreased implementation related to poor user adoption. This strategy encourages ownership and accountability through stakeholder engagement, communication and enablement.
There is so much discussion around technology, but we forget about the people behind that technology. In a nutshell, change management can help equip facilities and vendor teams with the right toolkits and resources that they'll need for the overall adoption and success of the program.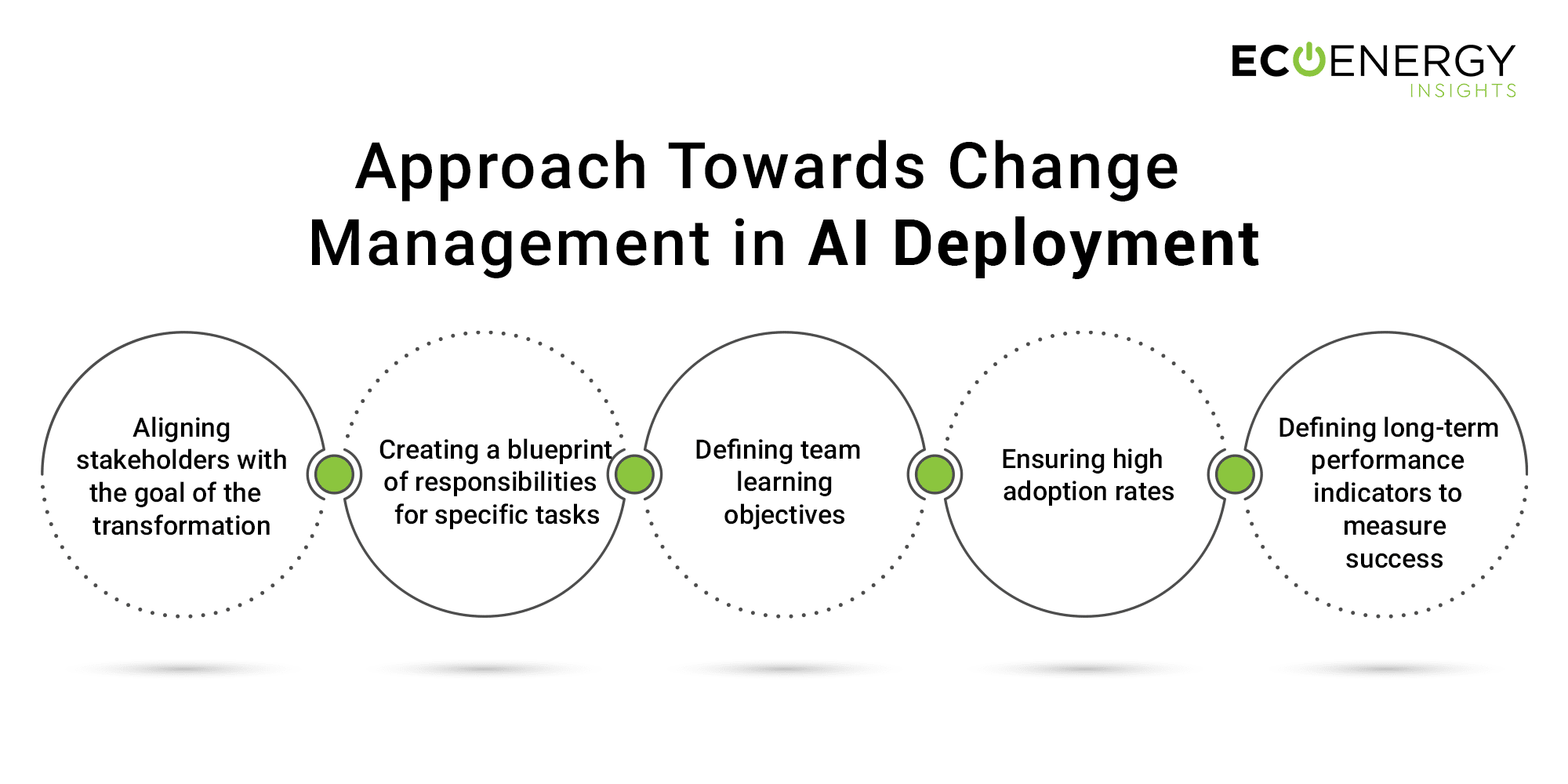 Based on the industry and the associated solution, the approach towards change management in AI deployment may shift, but in general, it includes:
Aligning stakeholders with the goal of the transformation
Creating a blueprint of responsibilities for specific tasks
Defining team learning objectives
Ensuring high adoption rates
Defining long-term performance indicators to measure success
Successful implementation of the AI solution doesn't mean that the organization has managed change successfully too. It relies on consistent adherence to the long-term vision of the implementation. It also ensures that employees at all levels understand the value of the AI solution and view it as a tool to help them work more efficiently in the long term. According to mindtools.com, the four principles of change management are:
Understanding change
Planning change
Implementing change
Communicating change
Organizations, on the other hand, experience different types of change management. According to a research, change management can be classified into three categories:
In its simplest form, a directed change can take the form of developmental change. In this type of change, the business improves what it is currently doing by improving existing skills, processes, methods, performance standards or conditions.
Examples of developmental change management are:
increasing sales or quality
interpersonal communication training
simple work process improvements
team development and problem-solving efforts
These are classic examples of continuous improvement, quality circle-driven changes and 'enhancement' projects.
This change leads to replacing what already exists with something that is regarded as 'new' by the stakeholders. For the change to happen, individuals have to emotionally let go of the old way of operating, leading to an enterprise-level dismantling of the old, while new systems and processes are being put into their place.
In a transitional change, the final destination can be completely visualized in great detail before the transition. This makes transitional change an ideal candidate for delivering a project through, as people are largely impacted in their skills and actions and deeper cultural values remain barely affected.
The third, and by far the most challenging type of change is called transformational change. In this kind of change, although the future state is a part of the vision, it cannot be known in detail – much of the final state arises from evolution – an outcome of trial-and-error as new information, new boundaries, and new interactions are integrated. It is partly for this reason that programs and program management disciplines were developed.
It is important to recognize that different kinds of change require different strategies and plans to gain engagement, reduce resistance, and ease acceptance of the new long-term vision for the transition project.
Sustaining the changes and integrating new processes into an organization's overall workflow and culture are key to a successful AI adoption. These may include activities such as updating process guides at regular intervals, training new hires to align them with the organization's goals and making sure that all employees understand the new technology's immediate and long-term benefits.
Conclusion: Change management process outlines initiatives, activities, responsibilities and a plan of action from the start to improve chances of long-term success
Artificial intelligence is already changing the way we live and it will have even more profound implications in the future. Implementing a new solution with built-in AI can be a challenging and time and resource-intensive task for organizations. To improve the chances of a successful implementation, it is crucial to have every stakeholder aligned to the organization's long-term vision.
Change management provides a blueprint for an industry specific and nuanced AI implementation and guides your business through the change. It helps to implement teams in anticipating challenges and ensuring that companies achieve long-term goals while reaping the benefits of AI technology.
April
2022
Author
Parminder Singh, Head Sales Enablement and Offering Management
Parminder Singh leads Solution Engineering and Pre-sales for EcoEnergy in North America and is primarily focused on crafting innovative and award-winning energy management and IoT enabled solutions for multi-site operators. He has over 20 years of experience working in product management, solution design, client engagement, operations management, business consulting, new product development, launch and global delivery. He holds a graduate degree in Mechanical Engineering and is a post-graduate in Business Administration.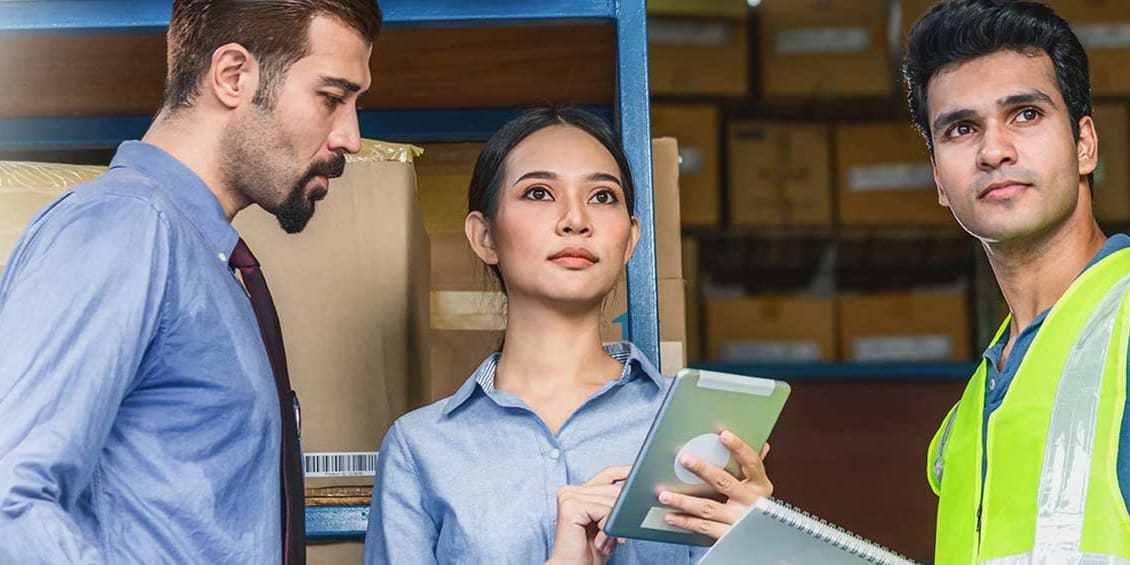 Five AI Applications for Retail Store Equipment...
SMART BUILDING, IOT PLATFORM, RETAIL
AI is transforming retail store equipment operations through multiple applications – and that list is only growing....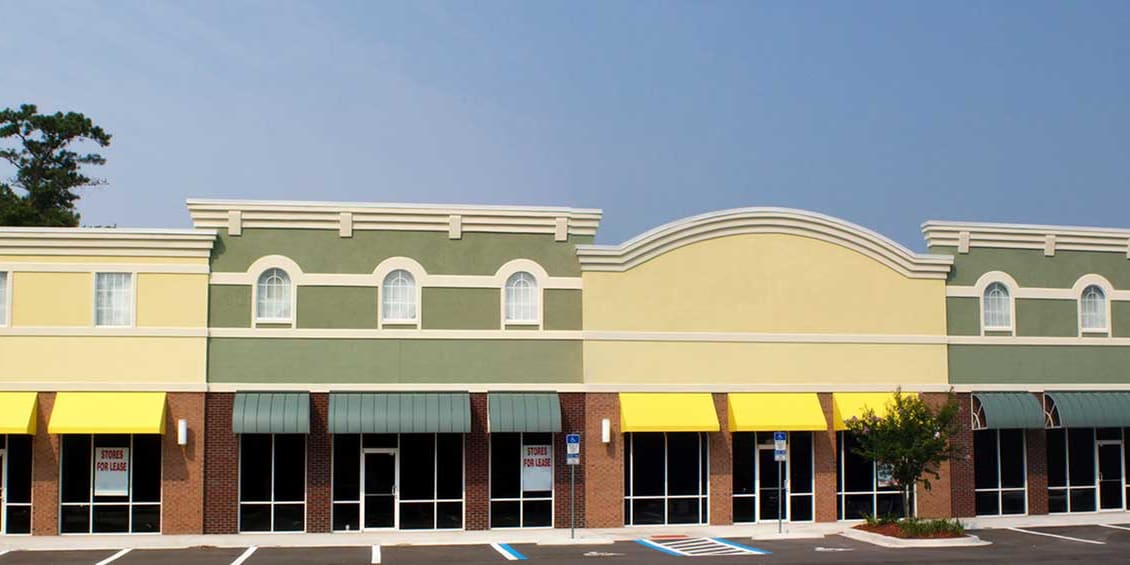 How IoT-based Smart Buildings Will Shape the Future of Multisite Retail Businesses
Hemachandran Venkatesan