EcoEnergy Insights Wins a Top Project of the Year Award from Environment + Energy Leader for Project Implementing CORTIX AI Platform
KENNESAW, Ga., July 20, 2022 – EcoEnergy Insights, a leading provider of AI and IoT solutions for building and equipment operations and a part of Carrier Global Corporation (NYSE:CARR), the leading global provider of healthy, safe, sustainable, and intelligent building and cold chain solutions, today announced that its project to improve energy efficiency and optimize equipment operations at the Connecticut campus of Pratt & Whitney, through the implementation of its award-winning CORTIX™ AI and IoT platform, received a Project of the Year recognition in the elite Environment + Energy Leader Awards program. The win indicates the program's expert judges consider EcoEnergy Insights' ground-breaking CORTIX AI platform a top example of the exemplary use of AI and IoT in the fields of energy and environmental management.
EcoEnergy Insights' CORTIX platform uses predictive insights and proactive actions to optimize energy use at Pratt & Whitney's facilities. The project, implemented across 12 manufacturing and office buildings on a single campus, achieved its intended result with a less than 12-month payback on the investment into the program.
"Pratt & Whitney's facilities are a combination of manufacturing and office space, including our worldwide headquarters," said Dan Redd, Plant Facilities Specialist, Pratt & Whitney. "When the COVID-19 pandemic struck, 80% of our salaried employees began working remotely, leaving many office buildings under-occupied. With EcoEnergy Insights' assistance, we identified ways to optimize the energy usage at our main campus that resulted in significant savings in both cost and carbon footprint. This is key to our overall smarter, cleaner, greener strategy goals – not only in building the world's most efficient propulsion systems but reducing our company's carbon footprint." EcoEnergy Insights' BluEdge™ Command Center, comprised of data scientists and domain experts, converted insights from the platform into action plans and ensured timely implementation. The CORTIX platform is a part of Carrier's Abound suite of solutions offering powerful insights to support customers' sustainability goals in 2022 and beyond.
"We are delighted to receive this award. This is recognition of our ability to collaborate successfully with Pratt & Whitney, understand the unique context of building, manufacturing and equipment operations, and deliver measurable results," said Mansoor Ahmad, Managing Director, EcoEnergy Insights. "This project is an excellent example of digital transformation using the CORTIX platform and its BluEdge Command Center. We are extremely delighted for the opportunity to work with Pratt & Whitney and thank them for their support for this project. This award is also a great validation of our innovative approach and hard work."
"The platform has been able to optimize a campus made of very different buildings and usage patterns, increasing the complexity of the project and challenge," said one of the judges. Another added, "It was able to innovatively use an AI platform in order to reduce greenhouse gas emissions as well as operating costs, which is a bonus."
The Environment + Energy Leader Awards is a program recognizing excellence in products and services that provide companies with energy and environmental benefits, and in projects implemented by companies that improved environmental or energy management and increased the bottom line.
For more information, visit ecoenergyinsights.com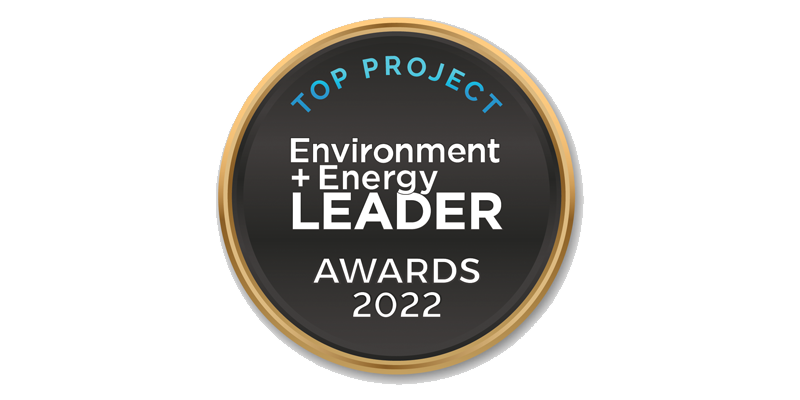 JUL - 20th
2022
EXPAND
HIDE