EcoEnergy Insights Earns Industry of Things World 2022 Award for Helping Leading Aerospace Manufacturer Realize its Decarbonization Goals
KENNESAW, Ga., Oct. 21, 2022 – EcoEnergy Insights a Carrier company and leading provider of Artificial Intelligence (AI) and Internet of Things (IoT)-enabled services, earned a second place recognition in the 'Growing the Green Way – Using Industrial Internet of Things (IIot) to Realize Your Decarbonization Goals' category at the 2022 Industry of Things World Awards held in Berlin, Germany. The Industry of Things World Awards recognize the industry's best in the IIoT space. EcoEnergy Insights is a part of Carrier Global Corporation (NYSE: CARR), the leading global provider of healthy, safe, sustainable and intelligent building and cold chain solutions.
The award recognized results achieved by EcoEnergy Insights for a leading American aircraft engine manufacturer, improving energy efficiency and optimizing equipment operations across 12 manufacturing and office buildings on a single campus. The engagement with EcoEnergy Insights helped the customer transform complex equipment and system maintenance processes to reduce greenhouse gas emissions by over 4,000 MT CO2 equivalent, saving over $250,000 in one year.
By implementing an innovative solution that included its CORTIX™ AI and IoT platform and BluEdge™ Command Centers, the EcoEnergy Insights' team converted insights from the platform into action plans and ensured timely implementation. This made the facility operations more proactive and efficient when compared to the baseline data measured at the facility, achieving material energy savings with a less than 12-month payback on the investment into the program. The CORTIX platform is a part of Carrier's Abound suite of solutions offering powerful insights to support customers' sustainability goals in 2022 and beyond.
"We are honored to receive this award, after having been nominated by a distinguished jury panel from leading organizations in Europe and around the world. This is great recognition of our ability to help manufacturers achieve their decarbonization goals," said Mansoor Ahmad, Managing Director, EcoEnergy Insights. "With global production sectors responsible for one-fifth of carbon emissions, there is an urgent need for manufacturing companies to decarbonize and this award further motivates us to contribute with our proven solutions."
This is EcoEnergy Insights' second award this year for the project. For more information on EcoEnergy Insights, please visit www.ecoenergyinsights.com or email [email protected]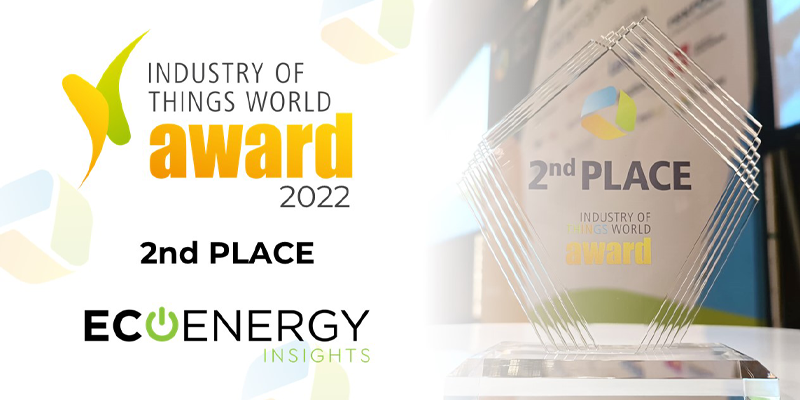 OCT - 21st
2022
EXPAND
HIDE