The winning strategy to leverage IoT in restaurants
Internet of Things (IoT) technology has transformed restaurant operations from management of HVAC systems to commercial cooking equipment. In restaurants, IoT is helping to improve customer experience and bring process efficiencies in the kitchen. Today, its use is mainly limited to front of the house operations, but the benefits go beyond speeding up ordering or upselling items on the menu. Only a few operators have opted for automation along with IoT and AI-led projects at the back of the house to run their buildings and equipment. Automating tedious tasks in the front and back of the house allows restaurant operators to focus on their core business functions, namely hospitality. Evolving customer demands are driving the industry to transition to a more efficient model.
Challenges facing restaurateurs
Operators of casual dining restaurants and quick-service restaurants (QSR) already face a spectrum of challenges in operating their businesses.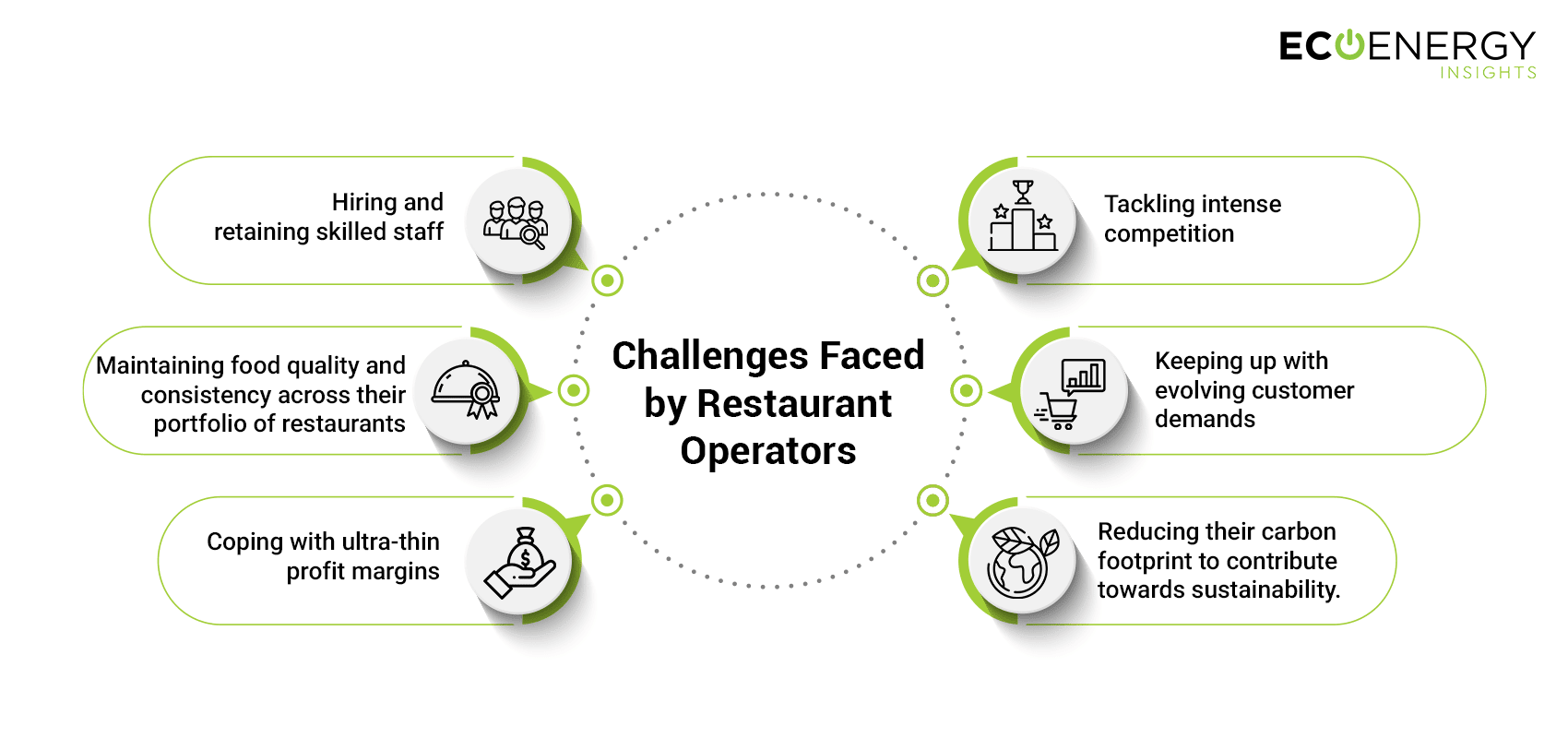 The challenges include:
Hiring and retaining skilled staff
Maintaining food quality and consistency across their portfolio of restaurants
Coping with ultra-thin profit margins
Tackling intense competition
Reducing their carbon footprint to contribute towards sustainability.
For most restaurateurs, a large part of the challenge lies in prioritizing the allocation of maximum energy and resources to achieve greater ROI and sustainability in the long run, while continually improving the quality of the experiences they deliver. To improve performance and customer experience, businesses need to elevate their building operations to address indoor air quality, occupant comfort, productivity, and operational efficiency. IoT technology can help them achieve multiple goals through a long-term strategy to leverage IoT in business.
The right IoT strategy
An IoT equipment and building management system serves as an 'eye in the sky' throughout the restaurant, continually monitoring and optimizing operations while reducing energy & maintenance costs. Beyond cost reduction, IoT applications help automate tasks, grow margins, enable efficient equipment and building operations, and improve guest comfort. The foodservice industry is uniquely positioned to implement IoT-enabled building management systems (BMS) for enabling efficient operations management and performance and to use advanced analytics from sensor-generated data to enhance customer experience.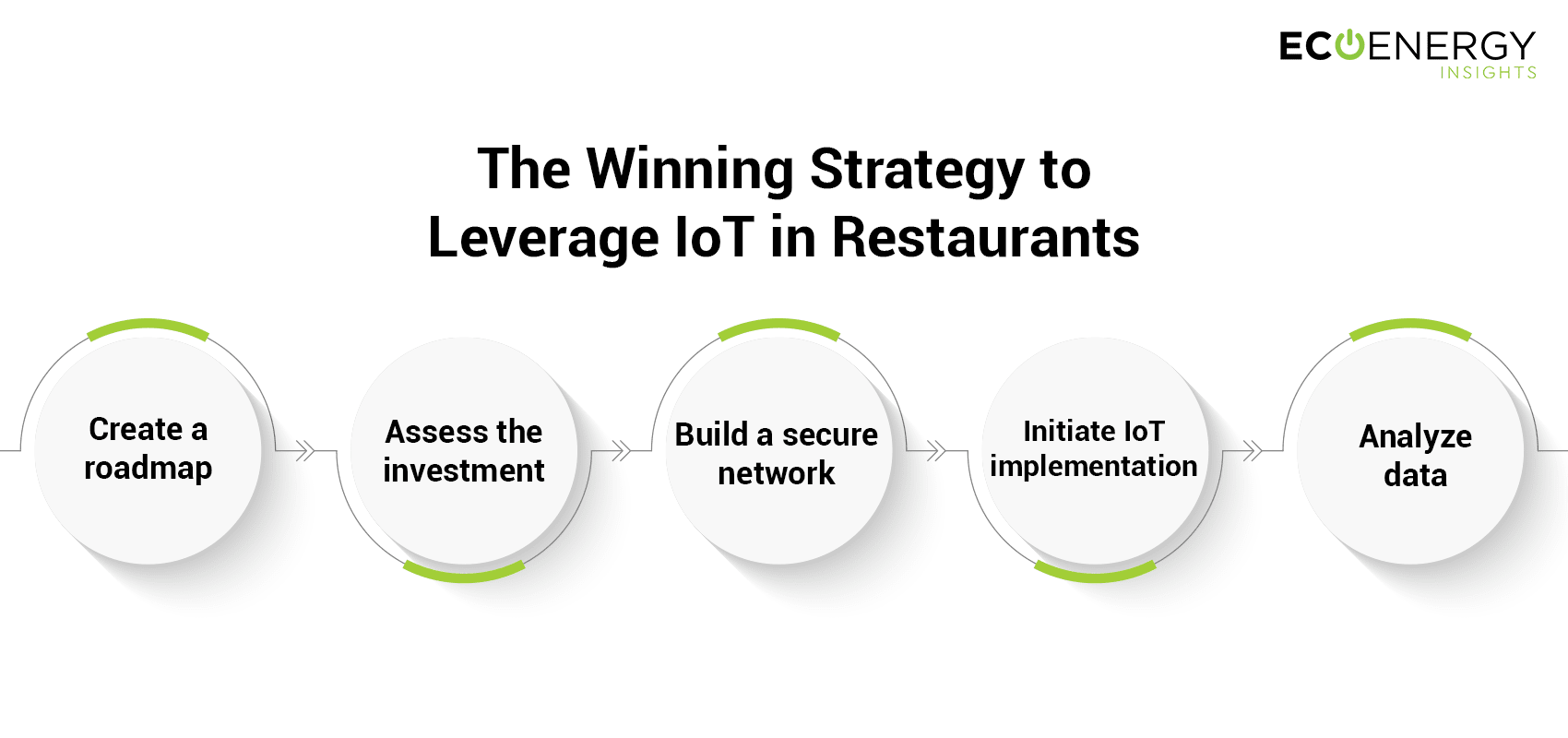 IoT or AI-based solutions offer great potential that is yet to be realized albeit in a complicated and nuanced landscape. Therefore, it is important for the facility management executives to comprehensively work on establishing the right IoT-based smart building strategy and create a roadmap for their restaurants depending on the specific objectives they intend to achieve.
Where do operators even begin their transformation journey?
Restaurant operators must create an IoT-based smart building strategy with a vision and clear set of end goals they want to achieve by implementing the technology. This roadmap should help identify the problem to be solved with the IoT implementation and the best possible solution for it, whether it is enhancing customer experience, resolving operational issues, increasing energy savings and so on. They must also consider the complexities of an IoT project and the complicated financial evaluations, and devise a solution that will enable the long-term scalability and performance of the framework.
Hardware and software costs are the key considerations while assessing the investment on an IoT project. The hardware includes IoT sensors and other measuring devices used to provide data on factors such as temperature, energy consumption, HVAC run hours, HVAC operational data, refrigeration operational data, humidity, CO2, etc. Another set of hardware is required to connect the sensors to the network used for IoT depending on the restaurant's unique requirements. Software costs include the solution framework that controls every aspect of the communication with the connected devices.
An IoT partner would factor in connectivity, compatibility and operability costs while assessing investments. Further, outlining detailed technical specifications is key to a winning IoT strategy. Building a secure network is critical to the success of the implementation, and operators must have a holistic encryption and fraud management plan to guard against threats and ensure smooth operations.
In-house or outsourced IoT implementation
Next, the operator must decide whether they want to outsource IoT implementation or build it in house. Implementing IoT based programs is cost-intensive due to the requirements of subject matter expertise in the talent pool. It must be done through bringing together an experienced and competent team. This is a complex issue with many technical nuances that are non-core to the main business of the operator; therefore, companies tend to avoid the painstaking process and instead outsource the task to more experienced partners. Outsourcing IoT development to an external partner is simpler and beneficial for restaurant operators since an external provider can effectively address the complex needs of an implementation project without the restaurant operator spending vast resources on developing required competencies.
The operator must choose an IoT partner that has implementation experience across industries and one who can help them achieve their busines objectives. There are comprehensive IoT solutions for restaurant operators to connect and manage their facilities digitally through predictive insights. There are partners with strong track records of delivering quick positive cash-flows through context-based solutions that can be scaled from a few hundred restaurants to thousands, swiftly. A comprehensive program helps operators efficiently manage their restaurant equipment, be it lighting, HVAC, refrigeration, or kitchen equipment.
IoT can have almost limitless applicability for restaurant businesses. Its greatest potential is realized when operators use data to make informed decisions for better growth or highly efficient operations. The right IoT partner will not only have deep implementation expertise but will also adopt an agile deployment approach. Restaurateurs must select a vendor capable of providing a solution that spans across the entire IoT deployment process, ensuring that businesses, functions and teams have smooth interoperability. They must accurately assess the risks, avoid threats, devise workarounds to navigate challenges, and execute the strategy with a laser focus to achieve its maximum potential
Authors
Parminder Singh , Head of North America Sales Enablement & Offering Management, EcoEnergy Insights
Parminder Singh heads sales enablement & offering management in North America for EcoEnergy Insights, a part of Carrier. He is primarily focused on crafting energy management and IoT solutions for multi-site operators.