Why Smart Building Implementation Must Be a Priority for Multisite Retail Operations
It's not a coincidence that IoT-based intelligent building systems have cut across industry lines and enable optimizing building equipment operations and maintenance. Retailers are now rapidly transitioning into smarter, more efficient building management solutions enabled by the internet of things (IoT) to achieve operational and strategic goals.
According to a Forrester study, 26% of retail businesses are already using or considering use of IoT solutions in the US in 2019.
Image Source: Forrester Analytics Global Business Technographics® Networks And Telecommunications Survey, 2019
Another study by Gartner states that 47% of businesses are planning to boost their investments in IoT. This points to the fact that we are in the midst of a digital revolution in the segment.
There is a multitude of IoT options to transform an existing retail facility into its smarter version, however, the modern crop of internet-savvy business leaders looks beyond bottom-line savings. They view it as a long-term investment that will catalyze new top-line growth opportunities and with good reason.
More often than not, energy efficiency in power, lighting and heating, ventilation, and air conditioning (HVAC) systems are the initial focus of an IoT-based smart building solution. Guidehouse Insights predicts that the value of IoT technologies is expected to become more widely apparent, and the market for IoT solutions for smart buildings is expected to see steady growth to $63 billion by 2029.
Key benefits of implementing an IoT-based building management system in retail are:
Meeting Sustainability Goals

Retailers are eager to ensure their operations are sustainable, with many having committed to aggressive targets to reduce direct and indirect GHG emissions. While Scope 1,2 and 3 emissions are common knowledge, the not so popular contributors of these emissions typically do not get reported or are not considered in planning. For example, a refrigerant leak from an HVAC system contributes to GHG emissions. Such leaks are harmful due to their global warming potential. Similarly, fixing a refrigerant leak requires a truck roll to the site which contributes to emissions as a vendor would burn fuel to support the fix at the store.

Such contributors and the usual consumption of energy that is usually accounted for in scope 1, can be tackled with having better visibility into operations and their control, facilitated by IoT.

Competitive Vendor Landscape Enables Smart Buildings Powered by Fast-Evolving IoT Technologies

The IoT landscape has exploded with exponential demand for clean and sustainable energy solutions that have associated financial ROI in the long run. It has resulted in an ever-widening array of vendors who offer solutions that include building automation systems (BAS) in addition to remotely monitored HVAC systems, connected lighting systems, and predictive analytics platforms.

Remotely Managed IoT Solutions Transform Smart Buildings into Strategic Productivity Assets

Remote management of IoT-based solutions enables off-site engineers to monitor, optimize and fix assets, often through a command center with cloud-connected BMS, or directly, for cloud-connected assets. The solution comes with improved flexibility, resulting in higher labor efficiency for retail businesses; it significantly reduces the need for field visits by engineers to fix minor equipment-related issues and improve first-time fix rates.
IoT-based solutions not only boost operational efficiencies but also enable a higher degree of personalization in customer experience. And, customer experiences are central to retail businesses. Customers rely heavily on either their own personal experience or they conduct extensive second-hand research to decide if they want to shop, dine, work out, or watch a movie at a certain store.
Building management solutions powered with the intelligence of IoT monitor the operations of lighting, HVAC systems, and other equipment in buildings. Their ability to adapt to varied business scenarios allows these smart building environments to cut across multiple industries, transforming the companies that occupy any type of building, including commercial retail.
Why smart building implementations must be a priority for multisite retailers
Multisite retailers can face significantly high operational costs compared to other industries depending on the number of facilities they operate and the labor force required for maintenance.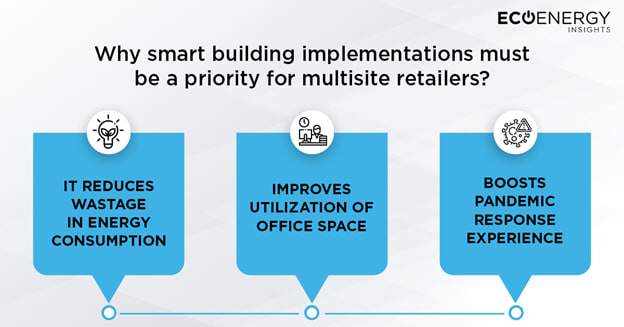 With buildings being important to their business, the operational costs of running a multisite operation along with monthly overheads make it relevant to prioritize implementing smart building solutions. The focus on enhancing efficiency in operations and energy consumption can neutralize the effects of these recurring costs and simplify maintenance.
Apart from the rate at which retailers are adopting IoT as a technology, the following reasons make it a 'must have' as a competitive strategy -
It reduces wastage in energy consumption

Residential and commercial buildings account for approximately 40% of total energy consumption in the US. Wastage due to inefficient energy use is a major problem for building managers.

With technology deployment in over 1800 stores in 4 months, EcoEnergy Insights' CORTIX™ platform helped a retail chain save 5.8% in energy usage for the year 2020 (excluding COVID-19 impacted months March, April, and May) resulting in cost savings of USD 2.1 million. The comprehensive energy solution handled over 9,000+ schedule change requests from March to June 2020. These solutions simplified energy management, improved occupant comfort while reducing their energy and maintenance costs.

Improves utilization of office space

Even though physical office space is an asset for most retail facility managers, the typical utilization rate of office space is approximately 39.5%. This leaves a lot of underutilized spaces at work as employees look for better locations to carry out their tasks.

The insights from a study done by Intel pointed out that only 50% of all desks were occupied at any given time. This allowed Intel to implement a slew of changes that helped accommodate 30% more workers in the building while saving on energy costs.

MyWay , a building services platform by Carrier, enables occupants to control and personalize how they interact with a building. MyWay provides occupant usage data that can be analyzed and used to improve building operational efficiencies. It also contributes to improving productivity.

Boosts pandemic response experience

The COVID-19 pandemic has changed the way we look at buildings, where we spend 90% of our lives indoors – from homes and schools to offices and hotels.

There is an added workload to ensure operations don't get disrupted and equipment breakdowns are prevented, amid maintaining Indoor Air Quality (IAQ) levels. IoT-enabled HVAC systems enable teams to swiftly adjust focus to managing day-to-day store operations now and during future pandemic-enforced lockdowns. IoT-enabled buildings can provide not only more operationally efficient indoor environments, but also confidence for home and building owners to be indoors.

For example, a product called OptiClean by Carrier plugs into a standard electrical outlet to quickly improve indoor air quality (IAQ), helping occupants feel more peace-of-mind in buildings.

IoT can help monitor the air quality level for Carbon Dioxide (CO2) and Volatile Carbons (VOC) in the room and bringing it to standard levels, through better monitoring and control.
Conclusion: Prioritize and address IoT-enabled energy efficiency to stay relevant and competitive
The verdict is out on IoT-enabled building management systems. The rate of adoption of the technology among retailers has made it imperative to implement such solutions.
To justify the initial costs the leadership should start with a project that provides quick ROI. Which function does it best?
Given that it accounts for a large chunk of total building energy consumption (close to 40%), the HVAC system can have a quick turnaround on cost savings. In addition to that, the insights from these systems can assist building managers to take corrective actions and formulate energy savings strategies across multiple stores. It can be the ideal place to begin the transformation journey for multisite retailers.
September
2021
Authors
Dev Raj Singh, a freelance consultant with a focus on evolving tech, AI and SaaS.
'How May AI Assist You?' Equipment Operations...
AI, RETAIL
86% of the retailers said they were comfortable using AI for their retail equipment maintenance and operations,...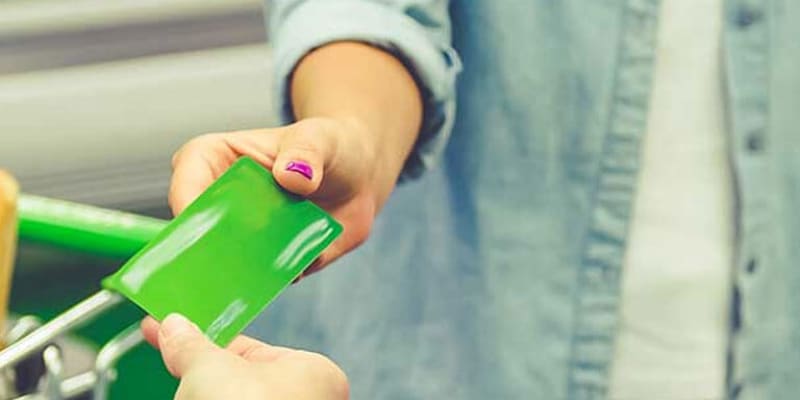 Combine IoT and business data to transform retail
Ravi Meghani