What to Expect When You Implement IoT-based Digital Transformation: Key Challenges
Broadly speaking, the term 'Internet-of-Things' (IoT) refers to any device or a non-electronic object that tracks and records the produced data and exchanges it over the Internet. IoT solutions have found applications across multiple industries such as utilities, retail, and healthcare - with considerable impact on reducing operational costs and improving efficiency.
In a report , EY puts forward the theory that an exponential increase in computing power combined with a decrease in computing cost, has enabled a widespread use of IoT across industries. In retail , EY argues that along with synchronization of information, IoT will dramatically impact every function in a way that it will never operate the same again.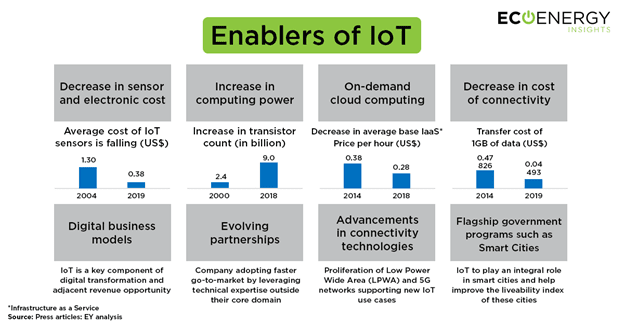 According to an IDC report, by 2025 there will be 55.7 billion connected devices worldwide. And, 75% of these devices will be connected to an IoT platform. Based on the report, IDC predicts that by 2025, 73.1 Zettabytes (ZB) of data will be generated from these connected IoT devices. That's a whopping 400% rise from 18 ZB data generated in 2019.
With our cars, phones, buildings, watches, refrigerators, and everything else around us getting connected and becoming smarter - more and more business leaders are deploying IoT solutions to make better decisions by analyzing this enormous amount of data. It helps them improve the customer experience while bolstering productivity and reducing operational costs.
On this uncharted journey, many organizations learn the hard way that what they expected to be fairly simple, in reality, is not. Through the myriad unanticipated challenges thrown at them, they learn that IoT implementation projects can be tricky when not planned thoroughly enough.
An IoT implementation can be a complex project with many moving parts like services, systems, and processes. It requires multiple operations teams and business functions to interact with the IT teams. A successful IoT deployment is a seamless integration of these moving parts - to function in coherence with each other like a well-oiled machine.
But how often do managers manage a successful IoT implementation?
Not very often, it would seem. Multiple studies done over the years indicate that many IoT implementation projects fail to see the light of the day outside the strategy and planning stage.
In a 2020 study , Beecham Research found that out of 25,000 surveyed IoT adopters, 58% considered their IoT projects to have been either not successful at all (18%) or mostly unsuccessful (40%)
A Microsoft study claims that 30 percent of IoT initiatives undertaken by the surveyed companies, fail to move beyond the Proof of Concept (PoC)
Among the surveyed executives , 35% of IT execs called their IoT deployments a success. Whereas, only 15% of business execs agreed with their IT teams.
The difference in the percentages outlines a gap in perception among the stakeholders. It focuses on a potential rift between the vision that the IT team laid out and the value it delivered, and, how IT & business teams perceived the overall performance based on metrics that aligned with their respective goals, which aren't necessarily the same.
Based on the above reports, it means a whopping three-fourths or roughly 75% of IoT deployments are considered a failure.
A high degree of technical complexity, lack of budget and resources, security, and lack of understanding were some of the challenges that most industries faced.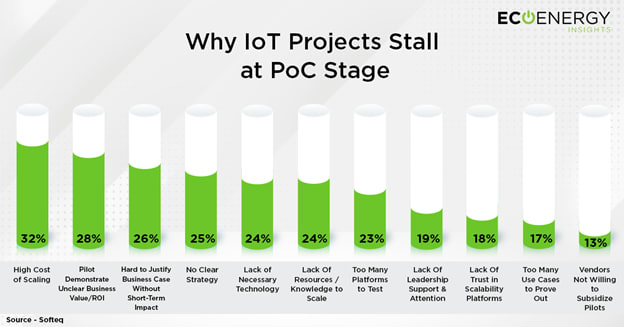 But it isn't nearly enough to plan for these known predicaments. IoT implementations can be dynamic with multiple system integrations, each running on a different platform -communicating with each other and analyzing complex data sets.
For most non-IT industries like retail, it is important that they choose an IoT partner with strong technical and execution teams, and a proven track record of handling end-to-end IoT implementations. A team capable of adjusting to situations and tackling unforeseen issues is pivotal to ensure a successful IoT deployment by expecting the 'unexpected.'
IoT projects, when faced with challenges, can develop quality issues - initiating a spiral that can lead to project delays or even failure. There can also be multiple secondary issues including budget extensions and missed completion deadlines resulting in additional overheads.
5 Key 'IoT-Implementation' Challenges That Retailers Would Face
1. Integration of data from multiple sources and types (equipment/ platforms/ databases/ protocols) into one platform - To execute a smart building IoT system deployment, data needs to be collected from different endpoints such as the HVAC system, refrigeration system, grid management solutions, energy monitoring systems and lighting. Information from different systems like a ticketing/ service request platform is essential to be integrated to one cohesive platform to generate meaningful insights.
Quick resolution to issues is crucial to increase the adoption rate. Minor compatibility issues (synchronization/ time lapse) with data capture could cause incorrect readings, or the lack of the system's ability to handle deviations at run time could lead to faulty data creeping into the system. The complexity of extracting accurate data for analysis adds to the risk of bad decision-making based on faulty data analysis.
Unsurprisingly, only 8% of surveyed business stakeholders, according to a HubSpot report, claimed to capture accurate data consistently.
2. Lack of IoT readiness - Any successful IoT implementation is built upon an organization's current resource pool and IoT maturity. It is attainable when targeted with an inclusive IoT strategy that's accurate in its reading of these metrics.
According to a study by KORE , 45% of the companies cited lack of IoT vision as the reason for failure, and nearly 50% responded saying they couldn't justify an ROI from the deployment. Hence, before undertaking an IoT project, an assessment must be done to take stock of the availability of technical and financial resources, motivation levels of team members, etc. in the organization.
Legacy systems need to be upgraded to enable them to get connected. An economical and technical feasibility study should be conducted to select the solution. Many OEMs are announcing IoT-ready equipment or have developed interfaces for their legacy devices.
3. Slow paced adoption - One of the key findings from the Cisco study indicates that three out of four reasons behind successful IoT implementations are related to people and the level of collaboration they demonstrate.
Adoption of the IoT at all levels will take some time and must be taken as a priority task. Continuous engagement, translation of what it means to each level and an effective mechanism to collect their feedback increase the adoption rate.
54% cited collaboration between IT and business functions was the number 1 factor. In the same study, another 49% called a technology focused leadership key to a successful deployment of IoT.
However, depending on the industry, technical and business teams can have very different focus areas. In retail, the tech team would want to focus on vendors, systems, and/or technologies, whereas the business team would pay more attention to milestones and ROI.
There are bound to be differences that underline the need for an implementation partner who understands the weightage that each function gets in one inclusive strategy.
4. Intelligent analytics capabilities - Long-term returns on IoT investments are facilitated by accurate reporting and associated analytics on IoT solution performance. The system ought to be capable of handling the enormous amounts of data, which is critical to the functioning of a high-performance analytics platform.
Two major considerations associated with any large technology investment like IoT are irrecoverable cost of the project and uncertainty about the value returned.
An intelligent IoT solution can derive precise information from specific data points to draw actionable insights which lead to better decision making and higher ROI.
However, ROI of IoT adoption is both direct and indirect. Direct ROI is achieved in the form of optimizing use of resources and delivering the higher quality services at lower costs (reduced number of visits by proactive measures and remote resolution). Indirect ROI is noted in terms of improving customer satisfaction and improving long-term strategic planning.
The analytics capabilities of an IoT platform can have a significant impact on the future revenue of the organization. Of those IoT users who generate incremental revenue, 55% said they were leveraging IoT data to create new services, and 44% said IoT was creating data and analytics that could be sold outright.
5. Data security threat - With frequent occurrences of malware attacks, organizations have always been apprehensive about data security. When there is high-value data flowing through the system, intellectual property theft and corporate espionage are risks.
Even larger organizations and government agencies with specialized teams for IT security, are not immune to being attacked by hackers. It was predicted that 25% of all cyber-attacks would target IoT devices in 2020. In the third quarter of 2020, Check Point Research reported a 50% increase in the daily average number of ransomware attacks compared with the first half of the year.
To avoid IoT security mishaps, IoT service providers must ensure reliable end-to-end data encryption with up-to-date cryptographic (SSL, TSL) and connectivity protocols MQTT, CoAP, AMQP, XMPP etc). They must reinforce IoT network security with monitoring tools and improve hardware security.
Conclusion
More and more business leaders, globally and across industries, are opting for IoT-based transformation as it enables businesses to become more efficient, productive and safe.
For retailers, IoT has relevant applications in energy savings and supply chain management, but there are scores of other use cases around loss prevention and enhancing customer experience.
However, we have already observed the complex technical and security issues that might arise during the lifecycle of the project. There could be other hindrances at the run time such as budget overruns and shortage of skilled resources.
Based on the findings, it is evident that businesses with requisite IoT know-how and a tech-focused leadership are more likely to achieve a successful IoT implementation. For retail businesses, with their limited expertise in IoT, it is critical that they partner with an IoT provider who has or can create a robust solution framework that aligns with the business goals.
September
2021
Authors
Maharudrayya Nandimath, Senior Manager at EcoEnergy Insights
Maharudrayya Nandimath leads Retail Solutioning at EcoEnergy Insights. He conceptualizes strategic and innovative solution frameworks. He is a passionate nature conservationist and enjoys empowering organizations to make data-driven decisions.
'How May AI Assist You?' Equipment Operations...
AI, RETAIL
86% of the retailers said they were comfortable using AI for their retail equipment maintenance and operations,...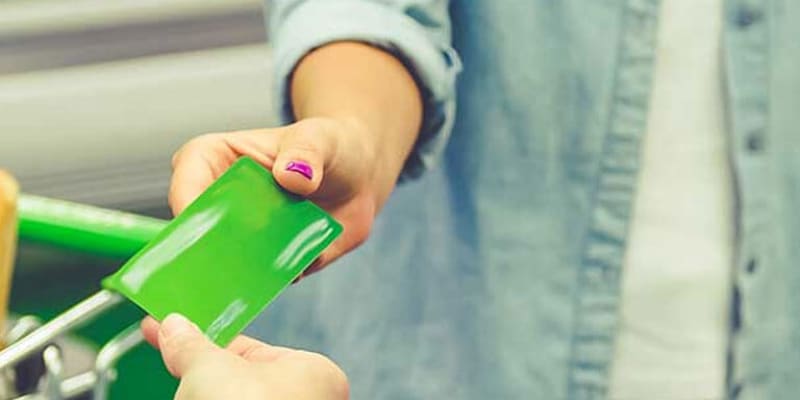 Combine IoT and business data to transform retail
Ravi Meghani