Role of AI in Fueling a Sustainable Future for Retail
What does sustainability mean in a post-pandemic world?
Sustainability has steadily become a more significant element in each of our lives, and the pandemic really pushed that momentum upwards. 'Reduce, Re-use, Recycle' is the mantra. Individual preferences and the capabilities of technology are increasingly proving to have a distinct and substantial impact on achieving a more sustainable future.
According to recent surveys in the industry, consumers demand sustainable products and shopping formats and one third of surveyed consumers are willing to pay a premium for sustainable products. Retailer operators are so pressured to cut down their impact on the environment with a huge focus now moving towards climate change and protecting limited resources.
This current environment also affects multisite retail businesses. Executives in real estate and facilities management are constantly under pressure to provide new cost savings and efficiencies to counter high retail store operational costs that come with providing a great in-store experience. This makes smart building technologies, that can make operations more sustainable, central to long-term strategy.
While energy retrofits, such as investment in solar power or switching to LED lighting, can be an effective long-term strategy to reduce dependence on energy from utilities and improve savings and sustainability, this may be an expensive undertaking for a multisite retail operation, involving significant upfront investment and planning, and may not be a practical first step. In such cases, AI and predictive technology allow the augmentation of existing infrastructure to help drive sustainable solutions without the same planning and investment required for a full energy retrofit.
Artificial intelligence (AI) is driving massive changes in the retail industry. According to a Mordor Intelligence report, the use of AI in the retail market in the USA is expected to register a 30% CAGR growth for the forecast period of 2021-2026.
Store controls augmentation, energy efficiency management, predictive maintenance, AI-based demand response and AI-based lighting control are some of the ways in which retailers can future-proof their business, gain an advantage over their competitors and help enable environmentally-friendly retail store operations.
What Role Can AI Play in Creating a Sustainable Future?
The current generation of AI-powered technological solutions is assisting businesses to help support efficiency and less costly operations by enabling automation and predictability to lead to better decision-making and outcomes. AI can simplify processes related to operations and maintenance of equipment, both of which are important to running an inviting, yet efficient store. AI solutions enable teams working with equipment – from store personnel to technicians who attend to the equipment – to get easy-to-act-on information that can help productivity. For example, natural language processing allows complex data to be conveyed in simple language, making it easier for teams to get to work on next steps in solving a particular challenge instead of deciphering complex data representations.
AI can also help predict problems, allowing teams to plan actions in advance to avoid unnecessary wastage caused by inefficient equipment and numerous "truck rolls" by maintenance teams. This predictability helps reduce the number of dispatches to a particular site and, as a result, also helps reduce the number of vehicles on the roads that may contribute pollution. Additionally, AI can help spot refrigerant leaks in advance, enabling retailers to arrest such leaks that may otherwise pollute the environment.
So aside from potential savings related to advanced maintenance planning and avoiding unnecessary service charges, the potential for reducing negative impacts related to the number of vehicles on the roads makes a compelling case for AI for store operations to be included in the technology roadmaps of retailers.
3 Key Ways In Which AI Can Drive Sustainability
Forecasting energy usage for improved energy efficiency
The amazing thing about artificial intelligent algorithms is that the AI learns from every encounter it has. This indicates that it is always improving its forecasts. AI-driven decision making can factor historical data and past human behavior toward specific challenges into its projections - in addition to a building's historical usage pattern. As a result, artificial intelligent and decision intelligence algorithms typically combine to select the most energy-efficient temperature setting in a facility based on the system parameters, and keep a check on the general health of the store.
Autonomous actions for quick preventive measures
By monitoring systems in real time and using rules to discover anomalies, predicting issues and the likely occurrences can allow companies to prevent equipment breakdowns before they occur. Instead of employing static rules, the latest generation of predictive software contextualizes data, taking into account operational conditions and comparing incoming data to past datasets, including from other similar systems, to spot anomalies. Such fault predictions help companies diagnose issues and plan corrective actions in advance, enabling teams to be more productive with their time and helping to reduce maintenance costs. The CORTIX platform from EcoEnergy Insights, for example, offers facilities managers with predictive actionable instructions in natural language to help them quickly understand what the problems are, what needs to be done and by when, so that they can prioritize actions accordingly.
AI-driven remote store operations management
Remote services for building management and operations have become essential as the ultimate view of entire sites from a central operations center or command center serves as the building operator's 'eye in the sky.' Businesses may focus exclusively on their clients knowing that their facility and operations are being remotely maintained and handled by specialists 24 hours a day, seven days a week.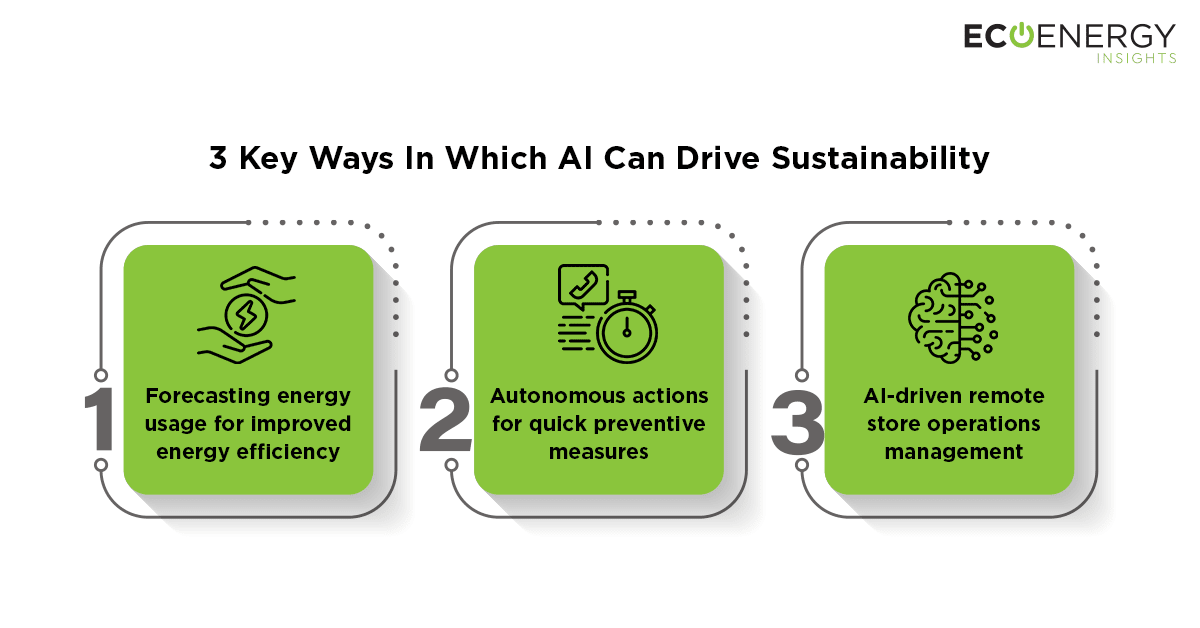 Remote services have the primary advantage of making service professionals instantaneously accessible and available at all times, even in the most remote areas and locations. They allow operators to respond rapidly to aberrations or unfavorable trends in the building's performance, and to repair the majority of issues without the need to dispatch technicians.Using AI for retail store operations is the way forward to a sustainable future
A number of retailers have pledged their support to accelerate a movement to drive climate action and encourage other retailers to set out their plans to achieve 1.5 degree aligned carbon reduction targets. However, a survey found that while more companies are setting climate targets, over 60% of them have either set their targets far out in the future, or have not announced any target years at all. Keeping aside accusations of greenwashing, for most companies (and I believe that's true for retailers as well) there is a gap between target and the actions to reach those targets.
That's where the use of AI for store operations can play a significant role. Based on their targets, retailers should evaluate how AI can help improve efficiency, such as bringing down store energy wastage and emissions caused by improper equipment operations and maintenance. Then retailers may proceed to adopt the suitable solutions that use AI technology and work to reduce their carbon footprint. AI can not only help existing installed equipment to operate better, it can also help ensure new energy efficient equipment is operated as designed, which can help deliver the savings that formed the value proposition for the equipment. The reporting capabilities of AI solutions can also help bring visibility to the impacts, which can help retailers demonstrate compliance with and support for new initiatives and requirements, such as the SEC's recent focus on improved corporate reporting related to ESG.
EcoEnergy Insights offers retailers the solution to help accelerate the digitalization of store operations while reaching for their sustainability goals. Over the past 5 years, it has delivered from 5% to 23% in annual energy savings based on the baseline year's energy consumption, to multi-site (retail and restaurant) customers, each with over 100 sites. These customers have made significant strides in reducing their carbon footprints, and some have even received Environmental Leader awards, increased CDP rankings, and featured status as a success story on Energy Star.
Reach out to us for more on how we use the award-winning CORTIX AI platform to help our customers reach their sustainability goals.
October
2022
Author
Parminder Singh, Head Sales Enablement and Offering Management
Parminder Singh leads Solution Engineering and Pre-sales for EcoEnergy in North America and is primarily focused on crafting innovative and award-winning energy management and IoT enabled solutions for multi-site operators. He has over 20 years of experience working in product management, solution design, client engagement, operations management, business consulting, new product development, launch and global delivery. He holds a graduate degree in Mechanical Engineering and is a post-graduate in Business Administration.