Sapphire Foods India Pvt. Ltd. and EcoEnergy Insights wins 'Best energy efficient case study award' at the Confederation of Indian Industry (CII)'s National Energy Efficiency Circle Competition.
EcoEnergy Insights, a leading provider of IOT driven Building Solutions along with Sapphire Foods, a food services and restaurant company operating restaurants across India, won a "Best Energy Efficiency Case Study" award at the Confederation of Indian Industry (CII) National Energy Efficiency Circle Competition held in New Delhi on 17th and 18th May, 2018.
The award was for Managed Restaurant Energy Services Program to realize quantum improvements in energy efficiencies, food safety, asset performance and customer experience across KFC restaurants, delivering greater than 20% savings. The award recognized and appreciated the program's approach based around a technology agnostic solution that focused on continuous improvement by generating actionable insights from data.
The objective of the competition is to provide a platform to enterprises across industry sectors, to share their success stories & help others learn the best practices. Organizations from around the country that exemplified the best inventions and deployments of energy efficiency measures participated in this competition with 180 case studies and more than 350 participants during the two days.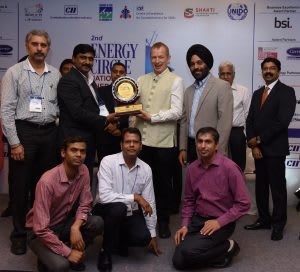 The Trophy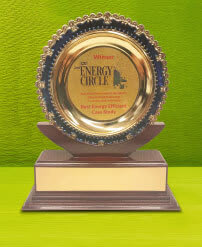 "EcoEnergy Insights' services made our restaurant network digitally visible and allowed us to optimize operations across the network" said Deba Adhya, CEO, Sapphire Foods Ltd.
"We are pleased to win this national level award. We are proud to enable Sapphire Foods to achieve their goals through latest technologies and this award is a validation of the value we bring," said EcoEnergy's Managing Director, Mansoor Ahmad.
MAY - 18th
2018
EXPAND
HIDE