HDFC Bank Ltd. and EcoEnergy win CII National level 'Best energy efficient case study' award
HDFC Bank and EcoEnergy win 'Best energy efficient case study award' at the Confederation of Indian Industry (CII)'s National Energy Efficiency Circle Competition
EcoEnergy, a leading provider of IOT driven Building Solutions, along with HDFC Bank Ltd., an Indian banking and financial services company, won the "Best Energy Efficiency Case Study" award at the Confederation of Indian Industry (CII) National Energy Efficiency Circle Competition held in New Delhi on 18th and 19th May, 2017.
The award was for Utilizing IOT Technology, Big Data & Cloud based Analytics to realize operational energy efficiencies across HDFC bank branches in India delivering greater than 11% savings. The award recognized and appreciated the program's approach based around a technology agnostic solution that focused on continuous improvement by generating actionable insights from data.
The objective of the competition is to provide a platform to enterprises across industry sectors, to share their success stories & help others learn the best practices. Organizations from around the country that exemplified the best inventions and deployments of energy efficiency measures participated in this competition with 170 presentations from 120 companies during the two days.
Receiving the award from
Mr. Abhay Bakre, Directory General, Bureau of Energy Efficiency and Dr Sudhir Kapur, Chairman Regional Committee on Skills & Education, CII
The Trophy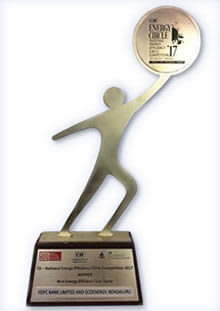 "This is a proud moment for us as it validates the efforts we have been putting into making our network of facilities energy efficient. HDFC has been championing the operation of sustainable branches and this is a strategic initiative to achieving that objective," said Madhukar Rao, Vice President – Infrastructure, HDFC Bank Ltd.
"We are honored to win this national level award. We believe this is a great recognition of the power of data and analytics and its ability to generate savings. This endorses our efforts in enabling our clients to achieve high impact results using IOT and analytics," said EcoEnergy's Managing Director, Mansoor Ahmad.
MAY - 19th
2017
EXPAND
HIDE