EcoEnergy Insights Wins Two Top Awards at the Environmental Leader & Energy Manager Conference (ELEMCON) 2018
DENVER, May 16, 2018 –EcoEnergy Insights, a leading provider of IoT and analytics-driven business outcome services, won two Top Project of the Year awards at ELEMCON 2018. The conference focuses on contemporary challenges and innovative solutions in the sustainability, environment and energy management space, and the awards, judged by a panel of highly acclaimed experts, are eagerly awaited by industry leaders every year. This is the second time EcoEnergy Insights has received an ELEMCON award in as many years. EcoEnergy Insights is a part of UTC Climate, Controls & Security, a unit of United Technologies Corp. (NYSE: UTX).
"We are honored and proud to win these two awards. This is great recognition of our constant innovation and application of Internet of Things (IoT) and big data analytics to solve real-world problems on a large scale and deliver meaningful results. Our track record for different projects over many years stands as testament to our ability to use cutting edge technology to address the exact needs of our customers,"" said Mansoor Ahmad, managing director, EcoEnergy Insights.
EcoEnergy Insights won the Environmental Leader Top Project of the Year 2018 award for achieving 15% cumulative energy savings in 18 months across 100 restaurants of the American West Restaurant Group. One of the judges noted, "EcoEnergy Insights' advanced analytics and controls based service seems very easy to implement, while delivering fast and valuable results."
The Energy Manager Today Top Project of the Year 2018 award was given to EcoEnergy Insights for reducing cumulative energy consumption by 4% across 1,500 stores of Petco Animal Supplies, Inc. For that recognition, a judge stated, "This project is very useful to provide measurable benefits with a well-defined timeframe and return on investment."
ELEMCON recognizes excellence in products and services that provide companies with energy and environmental benefits, improve environmental or energy management and increase the bottom line
"With a highly respected (and critical) judging panel and a strict set of judging criteria, entrants faced an extremely high bar for the level of product or project to qualify for an award," says Tim Hermes, publisher of Environmental Leader parent company, Business Sector Media. "Those who entered needed to bring their A-game, and they delivered."
With rapid advancements and a continuous rate of change in the field, sustainability and energy professionals have a notoriously difficult time knowing what products to choose or projects to undertake to help their companies increase energy, environmental, and sustainability performance. The Environmental Leader and Energy Manager Today Product & Project Awards give companies a solid base of products, vetted by experts, from which to choose, as well as a variety of successful projects to illustrate how companies can improve their sustainability and energy management goals.
Scores were determined by a panel of independent judges headed by Peter Bussey of LNS Research and included judges from Ball Aerospace, Best Buy, Black Ink Consulting, BSI Group, CandA, Caesars, Consultant Ben Larkey, Harbec, Kellogg, LNS Research, Marriott, Miller Coors, Nike, Novartis, Sears Holdings Corporation, Strategic Sustainable Consulting, Sustridge, Tesla, Wellborn Cabinet and Vincit Group.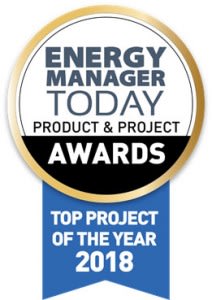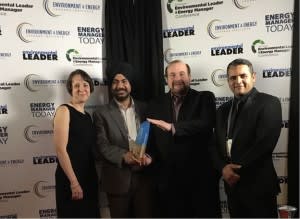 Environmental Leader Top Project of the Year 2018 and Energy Manager Today Top Project of the Year 2018.
EcoEnergy Insights receiving the Environmental Leader Award (L to R: Sarah Roberts, presenter, Environmental Leader Awards; Parminder Singh, practice head, QSR; Michael Gainsley, sales manager, QSR; and Rajender Beniwal, general manager, North America, EcoEnergy Insights)
About EcoEnergy Insights
EcoEnergy Insights is a leading provider of outcome-based services to some of the world's largest enterprises in industries such as retail, restaurants, hospitality, banking and water utilities. Its CORTIX™ technology platform leverages a combination of advanced software and expert human analytics to uncover insights and use them to achieve results across sites, multiple industries and a range of geographies. EcoEnergy Insights is a part of UTC Climate, Controls & Security, a unit of United Technologies Corp., a leading provider to the aerospace and building systems industries worldwide. For more information about EcoEnergy Insights and the CORTIX™ platform, www.cortix.ai
About Environmental Leader and Energy Manager Today
Since 2006, Environmental Leader and Energy Manager Today's websites and daily email newsletters have provided the definitive and objective voice in reporting on business-related energy, environmental, sustainability, and energy and energy management issues.www.environmentalleader.com or www.energymanagertoday.com
About the Environmental Leader and Energy Manager Today Product & Project Awards
In its sixth year, the Environmental Leader Product & Project Awards recognize excellence in products and services that provide companies with energy and environmental benefits, or in corporate projects that improved environmental, sustainability or energy management and increased the bottom line. It is a five-point rating system designed to offer companies feedback and recognition. Third-party judges came from the following companies: Ball Aerospace, Best Buy, Black Ink Consulting, BSI Group, CandA, Caesars, Consultant Ben Larkey, Harbec, Kellogg, LNS Research, Marriott, Miller Coors,Nike, Novartis, Sears Holdings Corporation, Strategic Sustainable Consulting, Sustridge, Tesla, Wellborn Cabinet, and Vincit Group. For a complete list of winners,www.environmentalleader.com or www.energymanagertoday.com
MAY - 16th
2018
EXPAND
HIDE