EcoEnergy Insights Is a Runner-Up at the IoT World Awards 2020
Santa Clara, California, 12 August, 2020 – EcoEnergy Insights , a leading provider of IoT and analytics-driven business outcome services, has been named runner-up for the COVID-19 Innovation Award for its CORTIX™ platform-enabled Safe Start Program at the IoT World Awards 2020. The Safe Start Program helps building managers of retail stores , restaurants and small commercial buildings restart operations safely while abiding by new industry guidelines and best practices for heating, ventilating and air conditioning (HVAC) systems during the COVID-19 pandemic and beyond. EcoEnergy Insights is part of Carrier Global Corporation (NYSE: CARR), a leading global provider of HVAC, refrigeration, fire, security and building automation technologies.
"COVID-19 has highlighted that indoor environments can play a critical role in public health. EcoEnergy Insights developed its program to enable businesses to resume operations safely and run them with this now intense focus on occupant wellbeing. This award is a recognition of our ability to quickly innovate, develop and deliver programs that can support businesses," said Mansoor Ahmad, Managing Director, EcoEnergy Insights. "The award validates the approach we have taken in developing the CORTIX™ platform and how it can be applied to this new normal."
The Safe Start Program was launched in April 2020 to help enable building managers to overcome challenges including interrupted operations, air quality issues, limited usage and missed preventative maintenance of HVAC equipment due to unoccupied facilities, as well as ensuring reliable operations as the summer approached. The Safe Start Program is part of the Carrier Healthy Buildings Program offering.
"A huge congratulations to EcoEnergy Insights for being a runner-up of the COVID-19 Innovation Award at this year's IoT World Awards," said Zach Butler, Portfolio Director, IoT World. "With over 500 nominations for the awards, this is a huge achievement."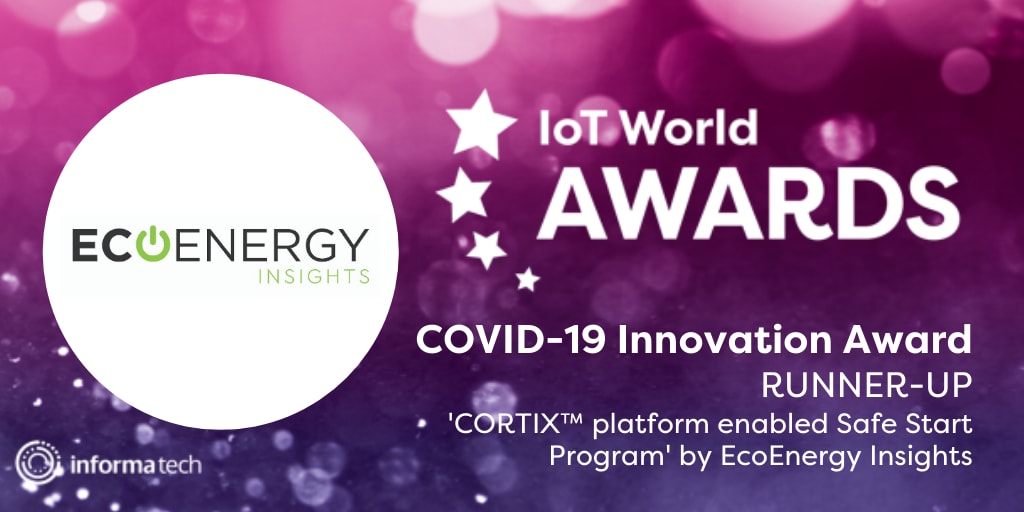 IoT World Virtual is an online platform bringing together the global IoT community to transform business in the new digital world. The conference showcases organizations leading the way in IoT adoption, enabling them to propel into a new world of business quicker, with more accurate data, ensuring their business can thrive through new technology adoptions.
For more information, visit ecoenergyinsights.com
AUG - 12th
2020
EXPAND
HIDE