Predictive Insights and Proactive Planning Pave the Way Forward for Retail Facility Managers
Managing retail operations in the COVID-19 pandemic through data
The adage "failing to prepare is preparing to fail" could not be more relevant for our current times. The COVID-19 pandemic has disrupted businesses around the world and forced many to shut down in a state of global emergency. As businesses reopen, they are forced to contemplate new ways to tackle a multitude of challenges. Occupant safety and comfort, managing risks, prevention of equipment failures and sustenance of overloaded equipment are top priorities. In addition to this, firms are grappling with high energy spends amidst heavy losses, reduced support staff and stringent norms.
Conflicting Priorities and Impact
Facility managers, a critical node in an organization's energy management, had a tough job already. Now tasked with additional stacks of critical responsibilities and conflicting demands, they have been thrust in the middle of it all to shoulder the responsibility of keeping businesses open and occupants safe. Their current main three objectives are:
Air quality
Occupant comfort
Energy efficiency
At the site level, striking a balance between occupant safety, health and comfort is essential. Facility managers must provide air quality assurance for employees and customers while maintaining an optimal level of safety and comfort. New health and safety guidelines by the Centers for Disease Control (CDC) stress maintaining the air quality within premises, as a critical requirement to combat the spread of the virus. Extra cooling may be required to offset some potential discomforts from wearing masks indoors, which means that the air-handling equipment must work harder, consuming more energy and becoming more susceptible to breakdowns. The extended lockdowns have resulted in interrupted operations and missed vital preventative maintenance cycles of Heating, Ventilation and Air-Conditioning (HVAC) equipment, affecting performance and causing outages. The guidelines also say that stores should keep their doors open to let fresh air in as a health and safety measure. However, during peak summer, hot air from the outside may not allow for open windows and doors, as it would negatively impact occupant comfort. High temperatures can also negatively impact equipment health, with higher loads beyond the peak working capacity. The likely outcome is a higher number of breakdowns and eventual system failures.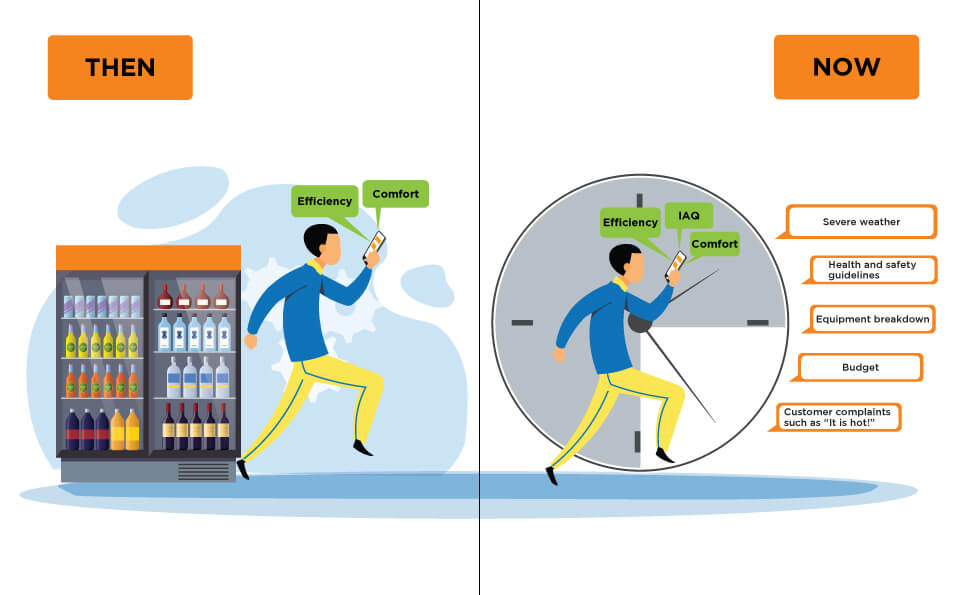 The seasonal changes and unfavorable levers have only added to already overloaded equipment. Earlier, levers such as natural weather conditions could be used to the equipment and building's advantage. Levers here refer to factors that provide added advantages in equipment control or efficiency without excessive effort or spend. For instance, during winter months, stores leverage the cold air outside by opening the doors for certain durations. By doing so they maintain the optimal temperature with less load on the equipment, reduce costs and ultimately gain energy savings. Another lever is the presence of adequate support staff and technicians on-site to maintain and run operations efficiently, preventing prolonged breakdowns. In the current scenario, however, the availability of technicians is a major handicap, especially as systems and equipment are operating beyond capacity. The availability of technicians and the performance load on machines has become inversely proportional. Managers will now have to increasingly rely on remote actions and resolutions to overcome the shortage of technicians to fix equipment faults.
Even in terms of the expense, the conditions post-shutdown has caused a surge in electricity bills for retailers with hundreds of stores or national presence. Even with a small percentage increase in overall costs, on average, the spike in expenditure can run into millions for such a retailer. Organizations are in a precarious situation, as they try to mitigate losses and the impact of added expenses is more detrimental than it would have been under normal circumstances, a year ago.
The Road Ahead Is Paved by Data
Facility Managers are juggling multiple, conflicting responsibilities to dynamically manage indoor air quality, ventilation and energy consumption. Significantly higher expenses and compromised equipment health may become a colossal challenge. Organizations across the globe need a more specific and robust strategy to combat challenges and operate efficiently in these extraordinarily difficult times. Facility managers have no choice but to be prepared and proactive. They must pre-empt situations and identify possible failures across stores beforehand and help keep stores open to drive sales. To tackle the situation, firms must focus on real-time data and analytics to guide highly engineered systems.
A data-based approach and proactive failure management can predict equipment issues in advance. Effective planning will enable managers to foresee scenarios of equipment health deterioration and breakdowns early on. They must gather historical data such as equipment failure rate in previous years, equipment health assessment, RTU maintenance and service schedules, before the failure happens. Factors like weather usage, shorter store operating hours and lower occupancy can be used to the retailers' advantage for reducing energy consumption beyond what is budgeted. While the relief it brings may be small, it cancels out the additional dollars spent. The ability to predict occurrences in the days and weeks to follow can be critical in ensuring equipment availability and optimal performance.
During and after COVID-19, facility managers will pivot years of sound experience to overcome an unfamiliar set of problems in an extremely dynamic environment. The effective use of historical data, analytics and artificial intelligence will enable facility managers to predict the impact of various factors and meet the capacity requirements of new operating standards. The data and insights will be critical in enabling systems to operate optimally, meet compliance targets and avoid breakdowns. With predictive insights and proactive actions, facility managers can balance their objectives and run operations smoothly in these turbulent times.
April
2021
Author
Rajender (Raj) Beniwal, North America General Manager
Raj is the North America General Manager for EcoEnergy Insights and is responsible for the go-to-market strategy and execution, including sales, alliance partnerships and marketing, for the North America region. In the last 10 years, he has helped establish EcoEnergy Insights as a key player in the Building IoT industry. Raj has spent over a decade helping companies realize positive financial and operational impact, working with Fortune 500 companies as clients. Prior to EcoEnergy Insights, Raj worked with Wipro Technologies across multiple leadership roles globally in Management Consulting, Marketing & Communication and Business Development. As an early adopter of IT/data based technologies and business trends like digital and IoT, Raj has also been regularly invited to share his expertise and views at renowned customer organizations as well as industry bodies such as National Association of Energy Service Companies (NAESCO), Retail Industry Leaders Association (RILA), The Edison Electric Institute (EEI), SCTE, Connex (erstwhile PRSM), CII, NASSCOM and others. Raj holds a Bachelor of Science degree in Computer Science and a post graduate degree in Business Administration, both from Bangalore University.
'How May AI Assist You?' Equipment Operations...
AI, RETAIL
86% of the retailers said they were comfortable using AI for their retail equipment maintenance and operations,...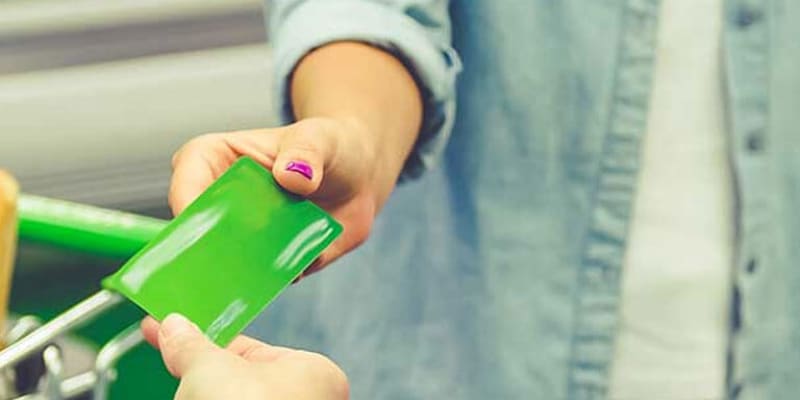 Combine IoT and business data to transform retail
Ravi Meghani