Are your buildings and equipment in the best of health? Contextual AI can let you know.
Across the globe, humans have shifted focus from illness management to wellness management. Gone are the reactive methods of waiting to fall sick. Today, people prefer staying updated on their health parameters through wearable gadgets and applications that track physical activity, food habits and more. In the future, we might be able to see our comprehensive health status on demand. Data models could start predicting when and why we might face a particular health issue, using multiple parameters such as food intake, sleep cycle, activity, medical history, family history, age, gender, race, local weather, altitude and more.
As we speak, this paradigm shift is already underway for building and equipment operations. Your artificial intelligence (AI) strategy can create data models that deliver various equipment objectives by utilizing their unique context and reading their 'symptoms' correctly through a predictive platform. You can take proactive action to maintain or improve health, instead of reacting when failure occurs.
The main objective of any equipment in a building is ensuring compliance and comfort. The business processes around such equipment help the building maintain good health and operate with maximum efficiency at the lowest cost. Ideally, equipment data should be normalized separately for each of these objectives— despite the data being the same. A three-pronged AI strategy of objective categorization, ecosystem learning, and simplified in-process application can help transform reactive processes for comfort and efficiency into a proactive process. This delivers multiple benefits and reduces the overall cost of transformation.
Different objectives would need different categories of models; however, they can learn from each other. An Artificial intelligence model for equipment health should be able to predict the four Ws of equipment failure— Whether the equipment is going to fail, When it might fail, What component(s) in the equipment might fail, and Why it/they might fail.
An AI model for compliance should normalize for completely unhealthy assets, but should cater to partially healthy assets while designing a constraint for efficient usage—since its objective would be to predict the best operational condition to achieve compliance.
To improve efficiency, two types of AI models can be considered. The first type involves improving the measurements that control the equipment to run efficiently while achieving its compliance objective; e.g., forecasting the calibration needs of important sensors like outside air temperature sensors, as they are impacted by roof radiation differently over a full day. The other type involves predicting the most optimized configuration to get the optimum balance between compliance and efficiency.
When dealing with a single site, AI models can learn from the characteristics of the site. For most enterprises, however, multiple sites or multiple equipment of the same type are involved, e.g., a large pizza chain with restaurants across the country, or a large retail chain with similar rooftop units on all its stores. In such cases, the model design should recognize the commonality across sites and benefit from the experience of millions of pieces of equipment, but also include a component which recognizes the differences specific to the individual sites' characteristics. Thus, an intelligently designed AI model learns from both—the shared learnings across hundreds of sites, and the unique learning from each site.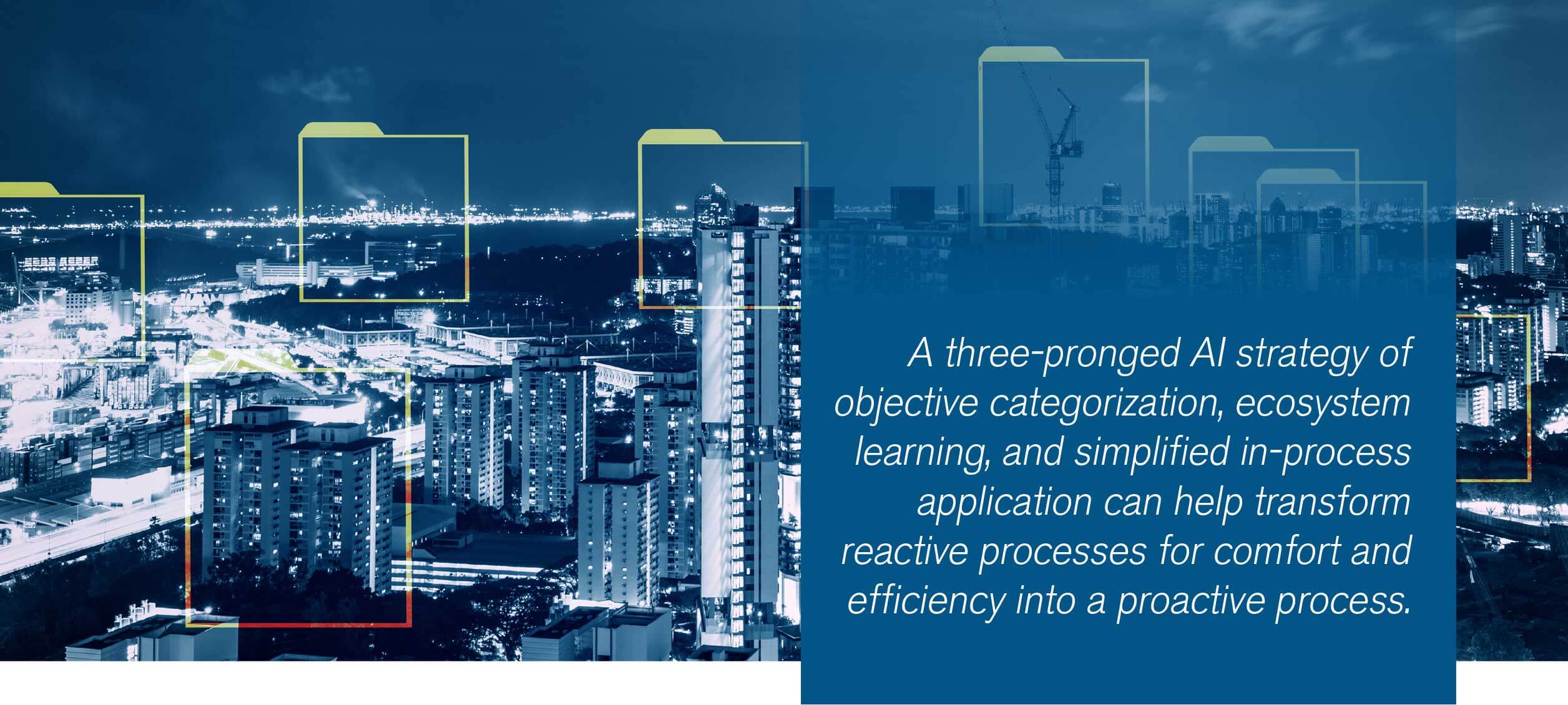 While the above design helps create an approach for different models that have different objectives, success of the AI models is primarily dependent on the cost-effective application and operationalization. Two strategies for this are defined as the ecosystem learning and the simplified in-process application.
For any model, the cost of creating a 'learning set' i.e., a labeled training set and test set, is enormous. It is also an iterative process. Ecosystem learning is about creating a system where learning happens through an ecosystem of use. Learning involves creation of a labeled dataset which signifies a particular objective to predict based on the past data set. For example, when building a model for predicting equipment failure, the existing data set needs to be labeled for confirmed failures. To have the model predict individual components and reasons for failure, the labeling needs to be done to address these specific details. With additional objectives, the complexity increases multifold while the accuracy of the labels decreases.
The ecosystem learning approach addresses this challenge by creating an ecosystem where the base objective is applied first and then operationalized with users, who help create the labeled data set for the secondary objectives. In the above example, a combination of the details of the parts replaced, together with the confirmation that the equipment health improved, would ascertain that indeed the equipment had failed due to the failure of the part. This can confirm the secondary objective: prediction of individual component failures.
Hence the design of the AI model should also look at the operationalization and the ecosystem to improve without increasing the cost.
Another important strategy is the simplified in-process application of the model results. When an ecosystem is being created for users, the results need to be converted into simplified metrics which can be easily interpreted. It also shouldn't completely change the existing process, but improve it and make it more user-friendly. For example, one could change a descriptive field for entering failed parts to a category selection. This will help in the adoption of the ecosystem, which is critical for the success of not only the evolution of the models, but also the transformation into a predictive, data driven-process.
It's time to adopt models that consider multiple perspectives with the right insights in context, and gain significant benefits in compliance, health and efficiency across buildings and locations. Diagnose the symptoms, act proactively with the right tools and do not allow your building and equipment operations to deteriorate.
August
2019
Author
Subhasis Mandal, Technology, New Products and Services Development
Subhasis Mandal has been instrumental in conceptualizing and architecting data-enabled, platform-driven services like energy efficiency, maintenance, and associated solutions. He was the key driving force behind the design and launch of the CORTIX™ Building IoT platform. He is also one of the Environment + Energy Top 100 class of 2019. Subhasis spearheads the Artificial Intelligence strategy for EcoEnergy Insights. A bachelors in engineering and post graduate in business analytics, Subhasis looks forward digital products accessible to a wider set of users.
Mansoor Ahmad, Managing Director
Mansoor Ahmad has been influencing the future of Building IoT through EcoEnergy Insights' disruptive innovations. Mansoor is responsible for steering a start-up incubated in 2009 within an IT Services company, into EcoEnergy Insights of today - A leading provider of outcome-based services to some of the world's largest enterprises in over 20 countries across the globe. Under his leadership, EcoEnergy Insights developed and launched the CORTIX™ platform and associated digital and digitally enabled solutions. Mansoor holds a bachelor's degree in Engineering is passionate about using technology to make the world a better place to live in.
'How May AI Assist You?' Equipment Operations...
AI, RETAIL
86% of the retailers said they were comfortable using AI for their retail equipment maintenance and operations,...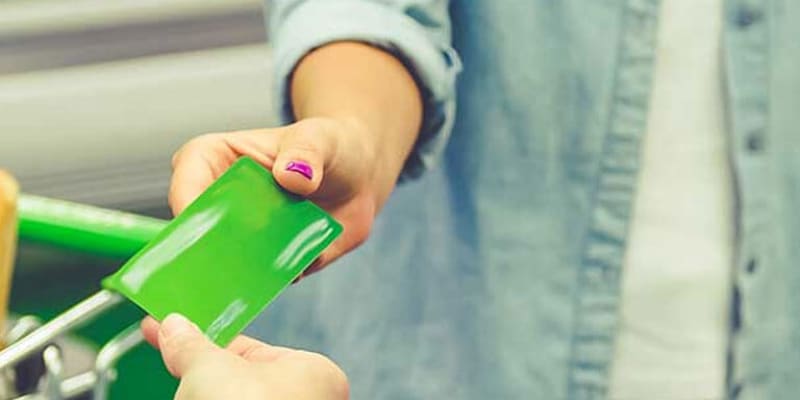 Combine IoT and business data to transform retail
Ravi Meghani