EcoEnergy Insights Wins a Top Project of the Year Award from Environment + Energy Leader for Project
EcoEnergy Insights Wins a Top Project of the Year Award from Environment + Energy Leader for Project
EcoEnergy Insights wins another Top Project of the Year Award at the 2022 Environment + Energy Leader Awards program. This year the award was won for helping an American Aircraft Engine Manufacturer reduce greenhouse gas emissions by over 4,000 MT CO2 equivalent & save over USD 250,000 in a year.
"When the pandemic struck, 80 per cent of our salaried employees began working remotely, leaving many office buildings under-occupied. With EcoEnergy Insights' assistance, we identified ways to optimize the energy usage at our main campus that resulted in significant savings in both cost and carbon footprint. This is key to our overall smarter, cleaner, greener strategy goals – not only in building the world's most efficient propulsion systems but reducing our company's carbon footprint." - Plant Facilities Specialist,
American Aircraft Engine Manufacturer
EcoEnergy Insights implemented a solution that included its CORTIX™ AI and IoT platform and its BluEdge™ Command Center – comprised of data scientists and domain experts. The team converted insights and recommendations from the platform into action plans and ensured timely implementation. This made the facility operations more proactive and efficient, achieving the following listed results with a less than 12-month payback on the investment into the program: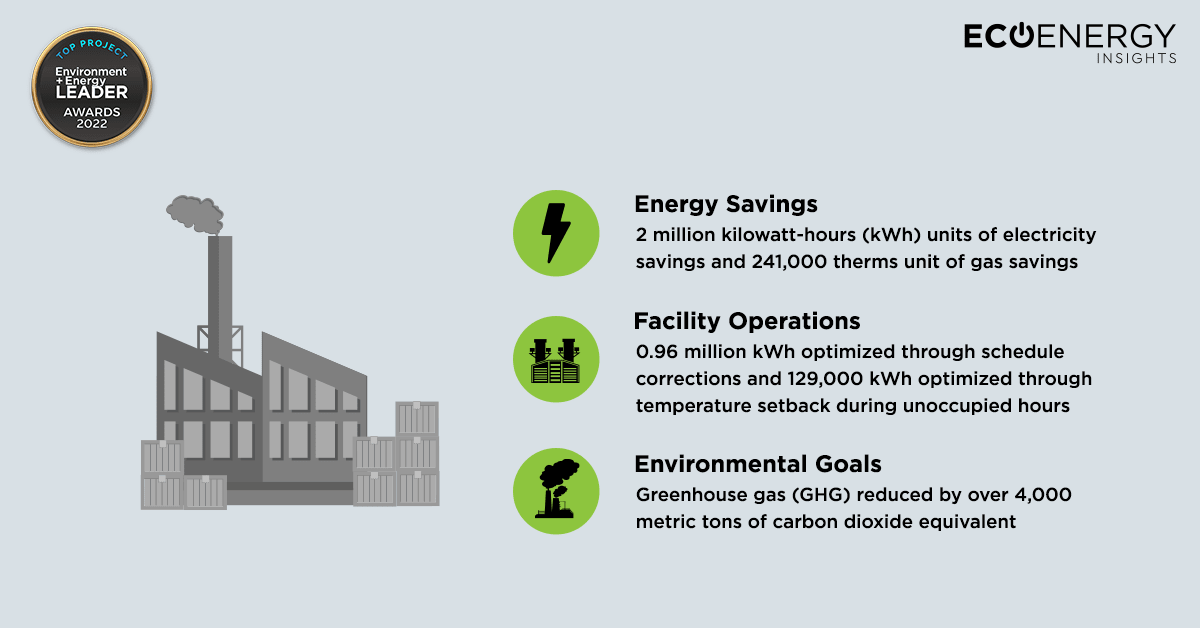 "The platform has been able to optimize a campus made of very different buildings and usage patterns, increasing the complexity of the project and challenge."
"Energy efficiency is key for energy decarbonization. This project took a mix of different buildings and delivered meaningful energy savings."
"It was able to innovatively use an AI platform in order to reduce GHG emissions as well as operating costs which is a bonus."- Judges at E+E
As a part of the event, Pushkar, General Manager and industrial practice head presented a lightning talk on the project.