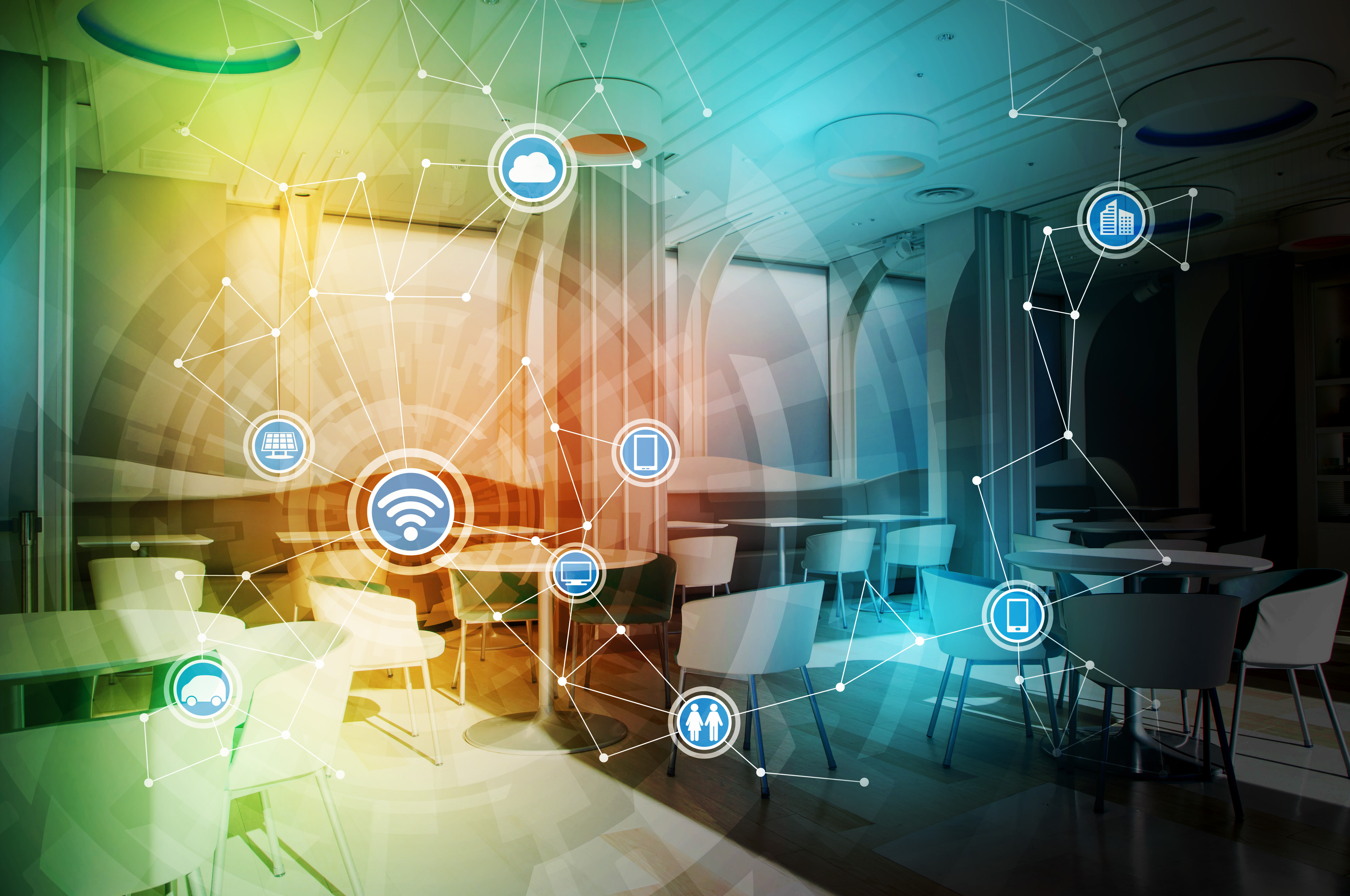 The Three Key Components of a Successful IoT & AI-Based Solution for Restaurant Operations
Internet of Things (IoT) & Artificial Intelligence (AI) are an integral and invisible part of our current environment and are steadily transforming the consumer landscape and various industries. There are billions of IoT devices installed in various shapes and forms that are delivering intelligence and actions, to solve different business problems for owners. In fact, no industry segment today is untouched by these technologies. The prediction is that there will be more than 75 billion IoT devices installed by 2025.
We are also becoming increasingly familiar with smart cities, intelligent buildings, vehicle-to-everything (V2X) cars, etc. These are perfect examples of IoT and AI usage to predict issues before they occur and identify challenges and opportunities in real-time in order to enable optimal use of resources for positive impact.
Most restaurant operators agree that technology can help make restaurants more productive. However, they may not have the in-house expertise to implement new technology and analyze large data sets. Therefore, many restaurant operators are partnering with specialized firms to manage connected devices and large data sets and to help leverage them to meet their business objectives.
Apart from addressing different operational challenges, including those brought out by the COVID-19 pandemic, solutions with these technologies can also help restaurant businesses gain a competitive advantage. Further, continual improvement in the management processes brought about by their use can lead to business efficiencies and have a significant impact on the bottom line.
Advantages of implementing AI & IoT based solutions: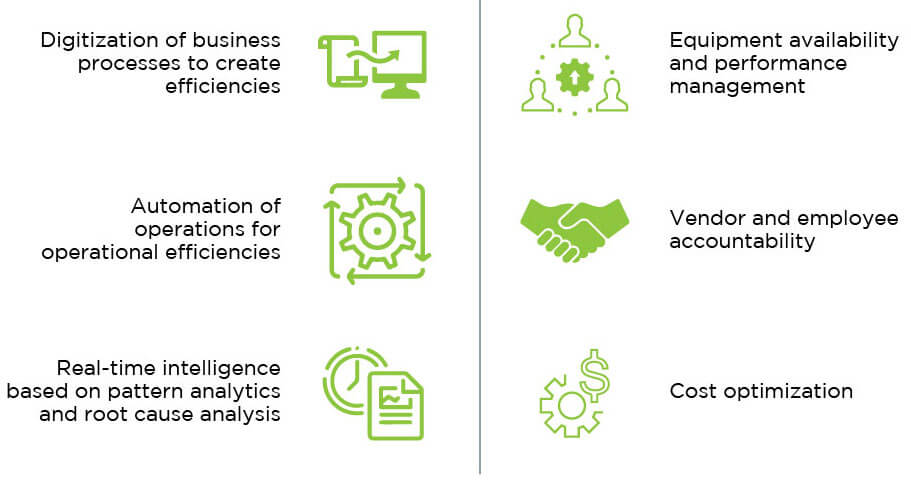 Typically, IoT & AI-based solutions consist of three key components :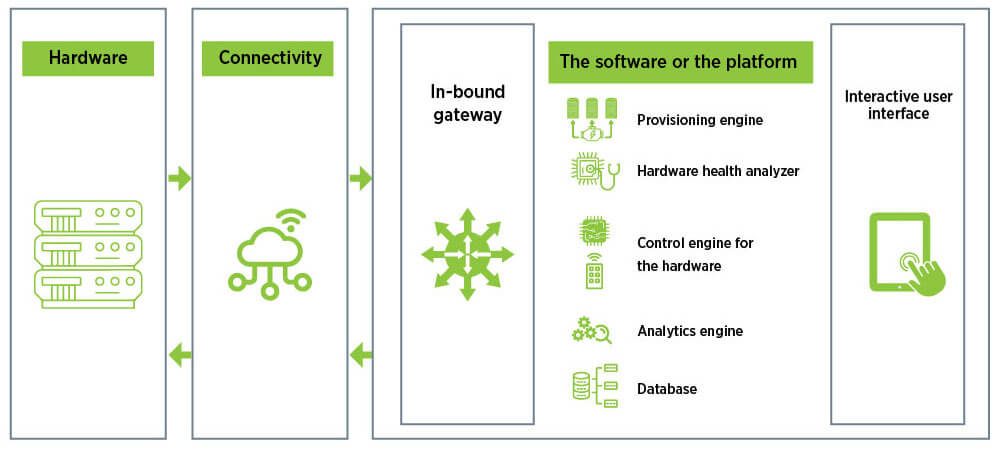 1. The hardware usually consists of low-cost measuring or controlling devices that can be easily integrated with the central hub of a Building Management System (BMS) and start transmitting data, preferably using an open protocol. It is crucial to have a hardware system that is modular and scalable so that new sensors or devices can be integrated in the future to deliver data and insights. When selecting these measuring and controlling devices, it is necessary to evaluate their purpose, reliability, working environment, accuracy, cost, etc. These measuring devices will be broadcasting data to the central hub, which is the basis of the entire AI data training. The wrong selection could result in an ineffective deployment and a missed opportunity to improve business efficiency.
2. The software or the platform is the essential IT infrastructure and cloud-based system, including the following sub-components:
Inbound gateway

receives data from different IoT sensors, devices and sites in the case of a distributed network.

Analytics engine

contextualizes, prioritizes and analyzes the data by using complex algorithms and rules. It generates real-time intelligence to improve upon existing business efficiencies.

Interactive user interface

helps the operators to understand and contextualize the output of the software. Uncovering insights from the data is not enough; being able to act on them is crucial to get meaningful results. The user interface should enable clear decision-making and initiate corrective actions.

Control engine for the hardware

helps to take some intelligent actions automatically based on predefined logic and rules. It helps businesses focus on the deviations as the control engine takes necessary actions without any intervention, supervision or manual involvement.

Hardware health analyzer

helps continuously monitor the health of the devices and detects issues in order to keep the network of edge devices in perfect working condition.

Database

is the dynamic repository of dynamic data from various measuring devices.

Provisioning engine

is a repository of the site or a portfolio's static data.
3. Connectivity is an important part of an IoT solution and connects the distributed sites to the central server through a secure pipeline. It also secures connectivity between southbound devices and the central hub at the site. In the dynamic environment, where the customer and industry requirements are evolving at a quick pace, there is a need to upgrade the firmware of the hardware promptly without going to the site. A very effective way of doing this is remotely, also known as Direct Over The Air (DOTA).
Restaurant businesses must manage energy efficiently and reduce operational costs while simultaneously providing a comfortable environment for customers and employees alike. The power and capabilities of IoT and AI are only increasing, and restaurant chains can successfully accomplish their objectives by implementing these technologies. IoT-driven analytics enable restaurant operators to collect information from all connected devices including Heating, Ventilating and Air Conditioning (HVAC) systems, refrigerators, cooking equipment and lighting to better manage their facilities through predictive insights. Restaurant operators ought to evaluate and invest in these technologies to digitize business operations and make them more predictive and proactive.These programs allow restaurant operators to easily monitor critical components such as air quality, temperature and humidity and help create a healthier and safer indoor environment.
July
2021
Authors
Parminder Singh , Head Sales Enablement & Offering Management
Parminder Singh heads Solution Engineering & Pre-sales for EcoEnergy in North America and is primarily focused on crafting innovative and award-winning energy management and IoT solutions for multi-site operators. He leads a team of dynamic professionals providing IoT and digital solutions to customers across all formats of buildings in Retail, Restaurants, Hospitality, Healthcare, etc. He has over 20 years of experience working in product management, solution design, client engagement, operations management, business consulting, new product development, launch and global delivery. He holds a graduate degree in Mechanical Engineering and is a post-graduate in Business Administration.
'How May AI Assist You?' Equipment Operations...
AI, RETAIL
86% of the retailers said they were comfortable using AI for their retail equipment maintenance and operations,...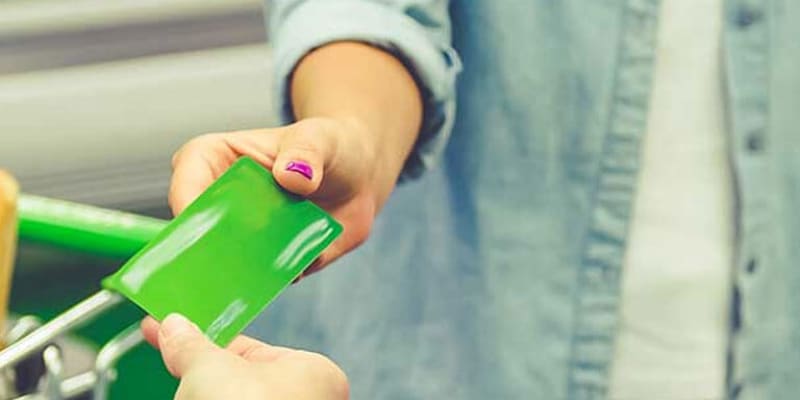 Combine IoT and business data to transform retail
Ravi Meghani