'How May AI Assist You?' Equipment Operations Get Conversational
'How May AI Assist You?' Equipment Operations Get Conversational
86% of the retailers said they were comfortable using AI for their retail equipment maintenance and operations, EcoEnergy Insights reports.
According to a research report published by MarketsandMarkets™ on Conversational AI, the market for conversational, the market for conversational AI is projected to grow from USD $6.8 billion in 2021 to $18.4 billion by 2026; it is expected to grow at a CAGR of 21.8% from through 2026.
What is conversational Artificial Intelligence (AI)?
Conversational AI is a technology that enables effective communication between humans and computers through speech or text. A well-designed conversational AI can create a natural, free-flowing conversation that imitates real-life interactions. The technology recognizes a user's speech or text, processes the command(s), understands their intent, and responds with adaptive, automated content.
How is conversational AI being used today?
Conversational AI applications have found a wide variety of applications across industries and in multiple functions within every industry. Across food & beverage, consumer goods, e-commerce, medicine, telecom and retail industries, AI has enabled functions ranging from customer service to marketing to security - driving higher profitability, optimizing operations and boosting occupant comfort.
Today, customers can simply ask voice assistants to play a particular song or find a recipe they want to try, with a voice command. One no longer needs to pull their car over to set up navigation on their dashboard screen, instead one can simply set up navigation with a voice command.
For building equipment, conversational AI can be a key contributor towards preventing equipment failure and improving performance. For example, technicians can use conversational voice commands to get a quick "to-do list" in a hands-free manner. Similarly, a facility manager can get a quick audio briefing about the health of equipment at a store and any maintenance actions to be planned.
The technology behind conversational AI for equipment
Advanced conversational AI equipment platforms are driven by two AIs.
A "recommendation AI" converts equipment data and service data to natural language recommendations ready for consumption in conversations.
A voice assistant AI uses the content and the context generated by the "recommendation engine AI."
The adoption of voice assistant AI is growing. They use text-to-speech conversions as well as speech interpretation capabilities to make conversations seem very natural to the user. However, the conversations require context and content, which the recommendation engine AI provides.
How conversational AI helps
Recommendation AI for equipment is uncommon but ideal for technician and facility management users. As equipment get smarter and more connected, problems become more complex. Any smart and cloud connected equipment can have problems arising from its mechanical, electrical, control or connectivity components. Hence to fully realize the potential of such equipment, technicians must have multidisciplinary skills for problem-solving and failure avoidance.
This is where recommendation AI helps upskill technicians by providing them recommendations in natural language so it becomes easy to understand and solve problems.
When recommendations are implemented on individual connected equipment units, facility managers gain visibility, agility, and predictability in their operations by helping to: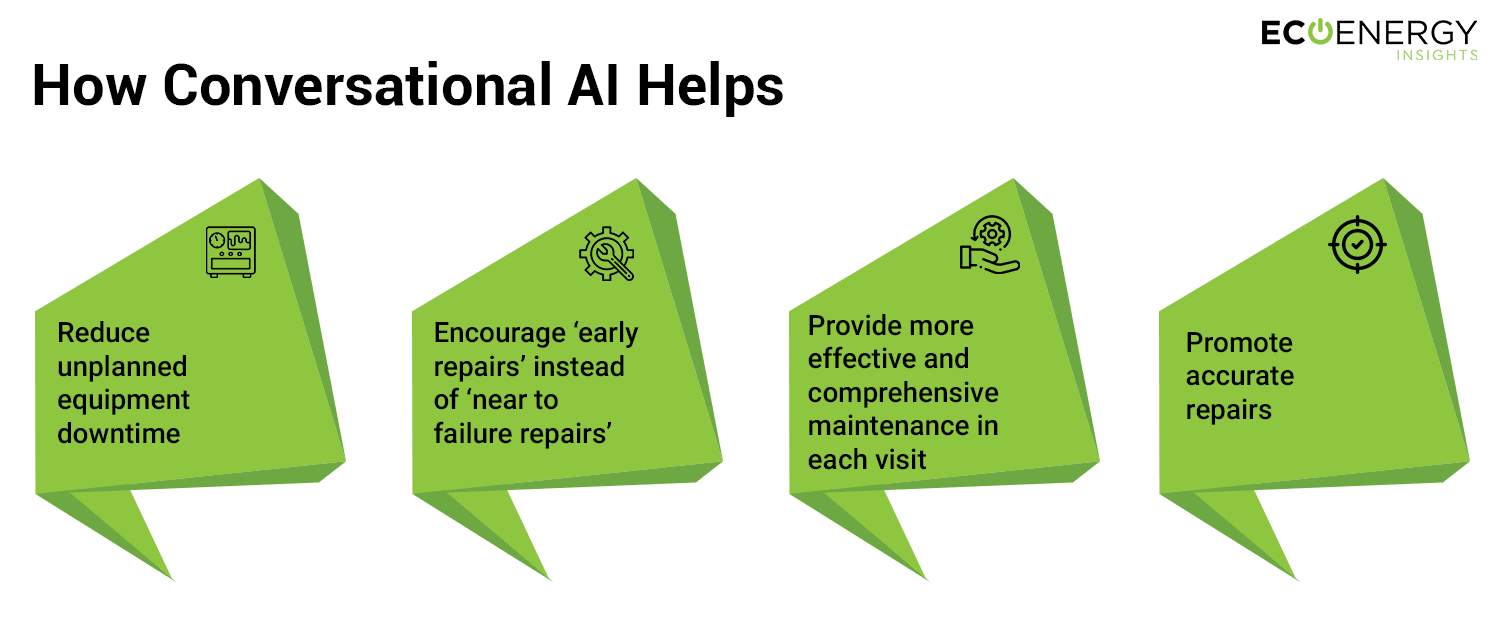 Reduce unplanned equipment downtime, which improves user experience and can reduce emergency repair costs.
Encourage "early repairs" instead of "near to failure repairs," thus reducing wear and tear of critical parts and potentially avoiding costly replacements.
Provide more effective and comprehensive maintenance in each visit, which can increase mean time between failures and time until the next maintenance visit.
Promote accurate repairs, regardless of the experience level of the visiting technicians.
Conversational AI enables technicians and facility mangers to be able to use the power of AI in a simpler manner, without having to dive into reports and spend time inferring key actions from graphs and charts. They can communicate with the AI and get an overview and then dive into aspects of interest only.
EcoEnergy Insights' conversational CORTIX™ AI platform for retail
The applications of IoT and AI for facilities management are only just beginning to emerge − but, their future looks incredibly bright.
At EcoEnergy Insights, we have developed the award-winning CORTIX™ AI platform that uses conversational AI to make equipment operations and maintenance more convenient through a mobile app. The platform offers an integrated dashboard to diagnose equipment issues and determine corrective actions − in natural language, so that users need not decipher anything.
The recommendation AI component of the platform provides prescriptive information on the source of the problem, how it can be solved and the required skills, urgency for prioritization, and impact if left unattended to. The platform also adds what the benefit would be in terms of improving occupant comfort, building health and safety, or energy efficiency. Combined with a voice assistant, available with only certain technologies as of now, it can be used by technicians and facility managers "on the go."
April
2022
Author
Subhasis Mandal, Head- Technology and Outcome Assurance
Subhasis is a continuous innovator in the Building Equipment data analytics space creating multiple award-winning data-driven services and platform products. He is one of the inventors of CORTIX AI assistants. He is responsible for the digital product portfolio of EcoEnergy along with the outcomes these products deliver to customers. Subhasis has a bachelor's degree in engineering and a postgraduate degree in E-business. He looks forward to helping digital products for equipment become more accessible to a wider set of users.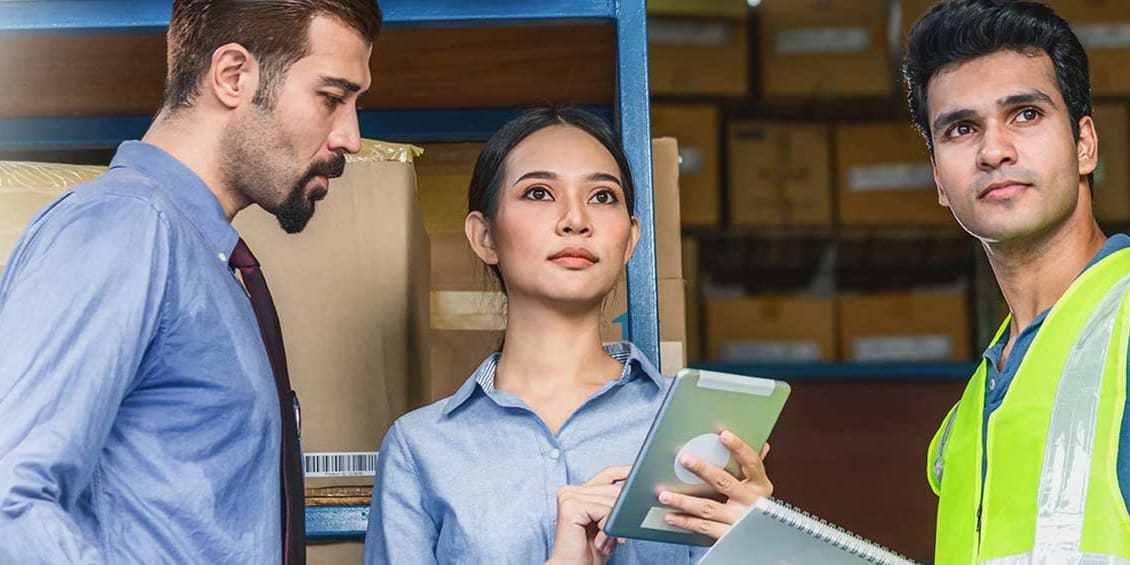 Five AI Applications for Retail Store Equipment...
SMART BUILDING, IOT PLATFORM, RETAIL
AI is transforming retail store equipment operations through multiple applications – and that list is only growing....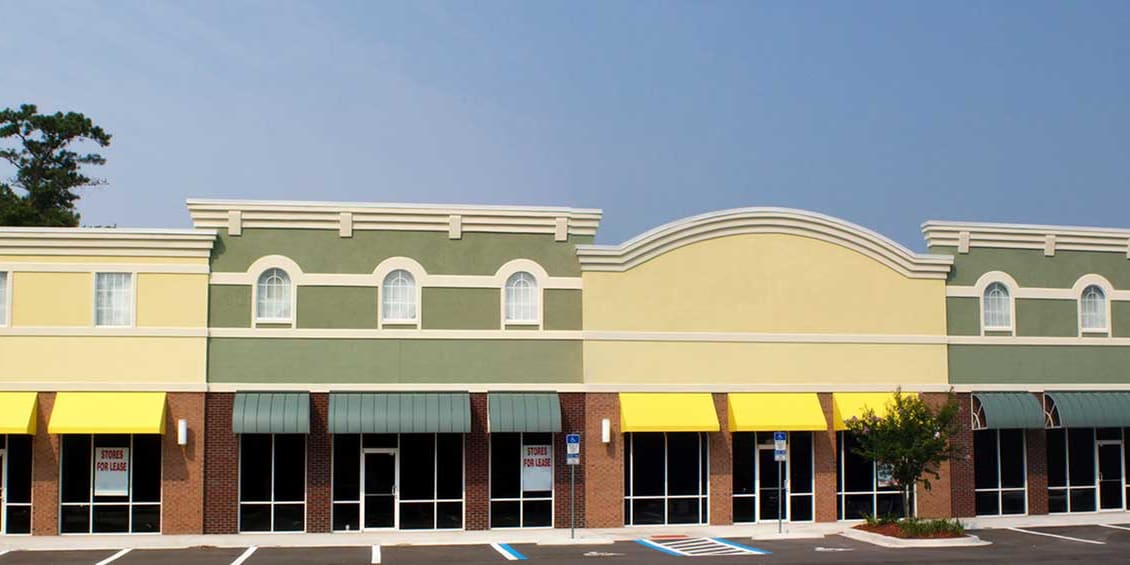 How IoT-based Smart Buildings Will Shape the Future of Multisite Retail Businesses
Hemachandran Venkatesan