Five Considerations When Choosing an AI Solution for Your Retail Enterprise
Over the last ten years, Artificial Intelligence (AI) has gained prominence due to rapid advancements in big data analytics, opening doors for predictive decision-making. AI is proven to perform analytically complex tasks such as identifying patterns in data with more speed and accuracy than humans. It has enabled businesses to gain more insight from their data, thereby facilitating business leaders to take strategically precise decisions.
AI is computer intelligence that imitates human intellect and combines it with machine learning (ML). AI learns from the collected data and intuitively applies those learnings to make more accurate decisions.
As the amount of data collected increases over time, so does the precision of the decisions. We can see applications of this powerful self-learning technology we call AI in our modern smartphones, at-home personal assistants and early driverless cars. AI has certainly come a long way in reimagining our daily lives!
AI set to disrupt retail industry in 2022 and beyond
While technology adoption was mostly trickling at a slow pace over the years, the post-pandemic retail world has witnessed a massive AI disruption.
More and more multi-site retail businesses (both offline and online) are ramping up AI automation to tap into changing consumer behavior in a retail environment (in-person shopping or banking experience). AI has the potential to transform their multi-site operation with actionable intelligence on the connected equipment, and improve occupant comfort and safety of their stores, merchandise, staff and customers.
Global retailers are constantly looking for ways to integrate AI into their products and services to better align them with customers' ever-evolving preferences or expectations. Having surpassed $2 billion in 2020, the size of AI in retail is anticipated to rise at more than 30% compound annual growth rate (CAGR) between 2021 and 2027, according to a Global Market Insights report.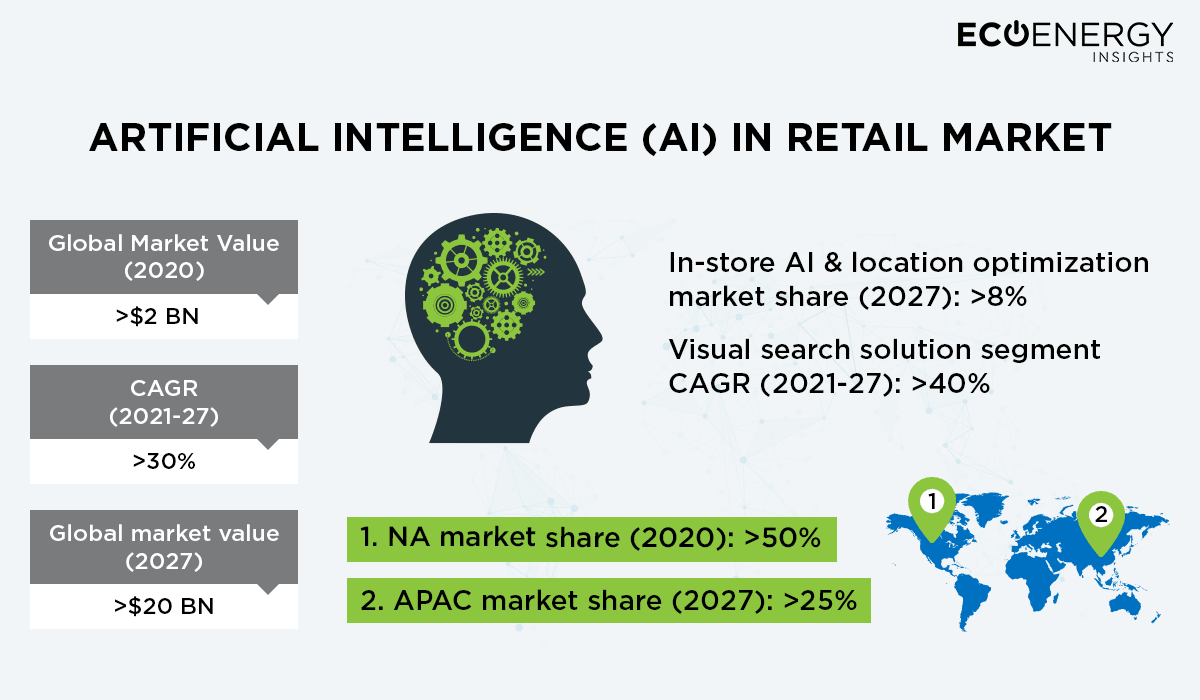 Image Source: Global Market Insights
In the retail enterprise sector, an increasing number of devices and sensors are connected through the Internet-of-Things (IoT), making them compatible with AI applications. Devices such as smart energy meters, cooling equipment like chillers, rooftop units (RTUs) and air conditioning units, backup and alternate power sources like UPS and DG sets, indoor air quality sensors, and security and surveillance systems, or even devices carried by the employees, generate enormous amounts of data.
AI enables the use of such data for high-value tasks such as predictive maintenance or performance optimization at unprecedented levels of accuracy. Hence, the combination of IoT and AI is expected to kick off the next wave of performance improvements.
The fact that AI has enormous applications in retail doesn't mean that AI implementations don't have their share of challenges and complexities. A Deloitte report finds that "75% of AI projects will remain at the prototype level as AI experts and organizational functions cannot engage in a productive dialogue."
Some of the key reasons why companies face deployment challenges are unclear business goals, insufficient technical infrastructure, lack of technical know-how and lack of reliable data.
To ensure a successful implementation, business leaders must follow proven guidelines for implementation. These guidelines will not only keep the project on track, but will also provide technical expertise to tackle any unforeseen crisis.
Five considerations for retail enterprises choosing an AI solution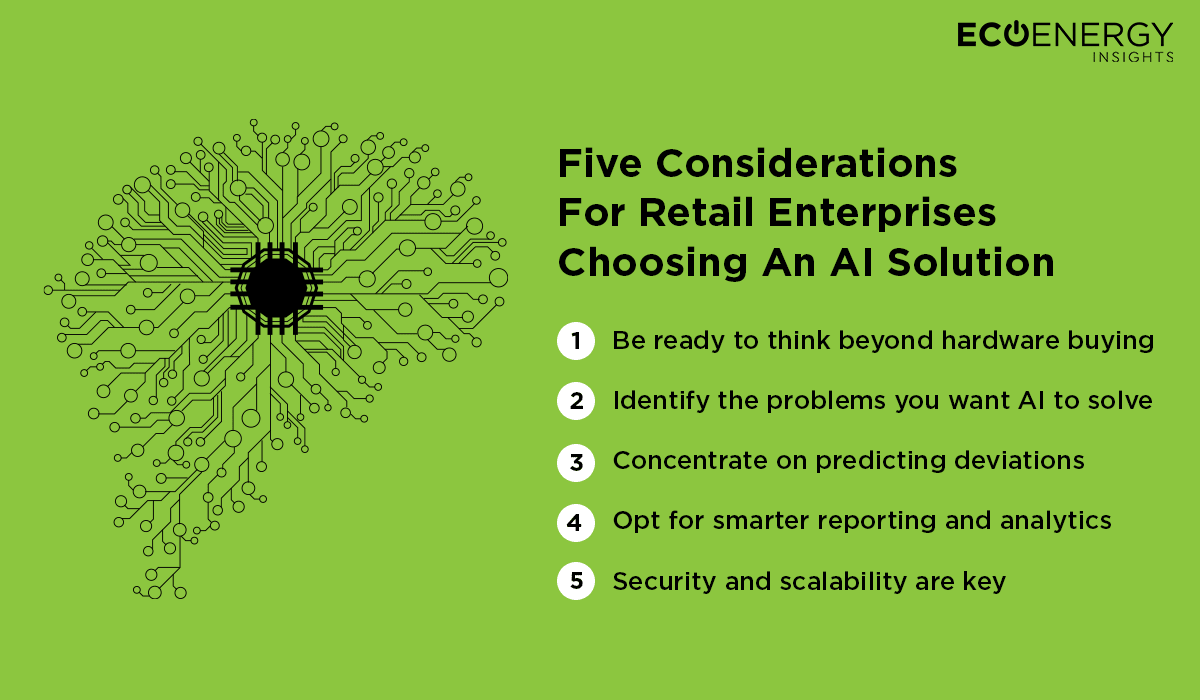 Be ready to think beyond hardware buying

An ideal AI platform can process data from a diverse set of IoT-enabled sources regardless of brand or technology. When trying to implement an AI or an ML project, it is important to ask the right questions, and to be product agnostic.

Identify the problems you want AI to solve

Often, organizations get tied to projects in which value is centered around vanity metrics. Developing an AI product is resource-intensive, and many organizations find it challenging to build enough in-house expertise to work on every facet. A specialized AI implementation team needs to ensure that their solution is tied to solving the organization's business problems. It also must help the facility team manage store operations effectively with industry-based contextualized data. Continuous learning from the data is key.

Concentrate on predicting deviations

According to the International Society of Automation , $647 billion is lost globally to machine downtime each year. Whether this is caused by changing seasons, increased usage or aging equipment, appliances and machinery are prone to eventual faults. And, when faults do occur, they can cost tremendous monetary and reputational loss to the business. The AI platform should be able to predict and prevent breakdowns by analyzing and interpreting historical data on past equipment failures.

Opt for smarter reporting and analytics

In a retail enterprise, a comprehensive analytics program is critical to the success of any facility management (FM) team. Using the insights gleaned by analyzing facility data, managers can improve visibility, make data-backed decisions, and plan strategic initiatives – all while keeping an eye on staying within the allocated budget and on track with the long-term goals. AI-enabled solutions can more efficiently separate capital and operational costs, improve predictability and enhance demand forecasting. The personalized insights provided by AI-powered analytics will ultimately allow your business to cut costs, prevent breakdowns and keep both customers and employees satisfied.

Security and scalability are key

The search for a suitable AI software platform usually starts from the need to realize a specific business case. However, it is very likely that other opportunities will be discovered over time whereby AI or ML can be of added value. Retailers must choose a tool that can manage multiple AI use cases or ML flows from the same environment. To analyze data, retailers need access to that data. Integrations with databases or software that can retrieve this data can be time-consuming and expensive. Therefore, the chosen software must have an open API architecture to ensure compatibility with the AI solution.
Final Thoughts: AI, IoT and cloud-based remote services are the way forward
The applications for IoT and AI in the retail enterprise, especially for facilities management, are only just beginning to emerge, but their futures look incredibly bright. There are technology solutions like the CORTIX™ AI and IoT platform, that offer a single pane of glass to diagnose equipment issues and determine corrective actions – in natural language, so that users need not decipher anything.
Retailers and other multi-site enterprises must adopt technology to have centralized enterprise visibility into how their building portfolio is delivering a consistent experience to customers. They must make customers feel comfortable spending time experiencing their products or services. AI, IoT and cloud-based remote services are the way forward for these enterprises.
December
2021
Author
Joydeep Banerjee, Senior Manager Client Engagement at EcoEnergy Insights
Joydeep is primarily focused on ensuring value-based outcomes for clients with multi-site chains from CORTIX AI-enabled energy management and IoT programs. He is passionate about helping clients digitally transform their operations and realize their Environmental, Social and Governance (ESG) and Sustainability goals.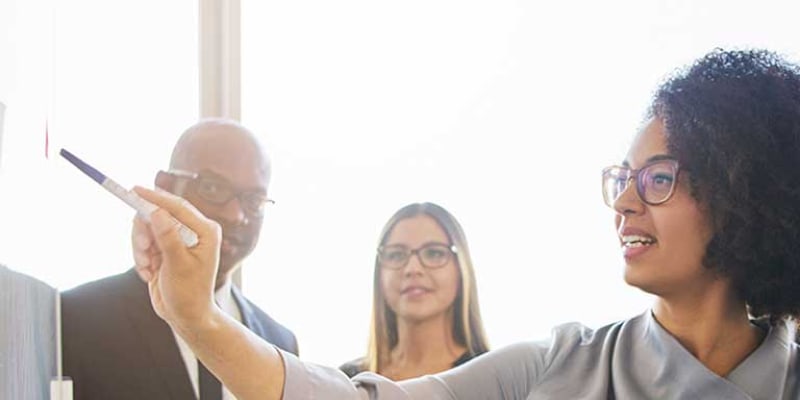 How Retailers Can Establish an IoT-based Smart Building Strategy
Parminder Singh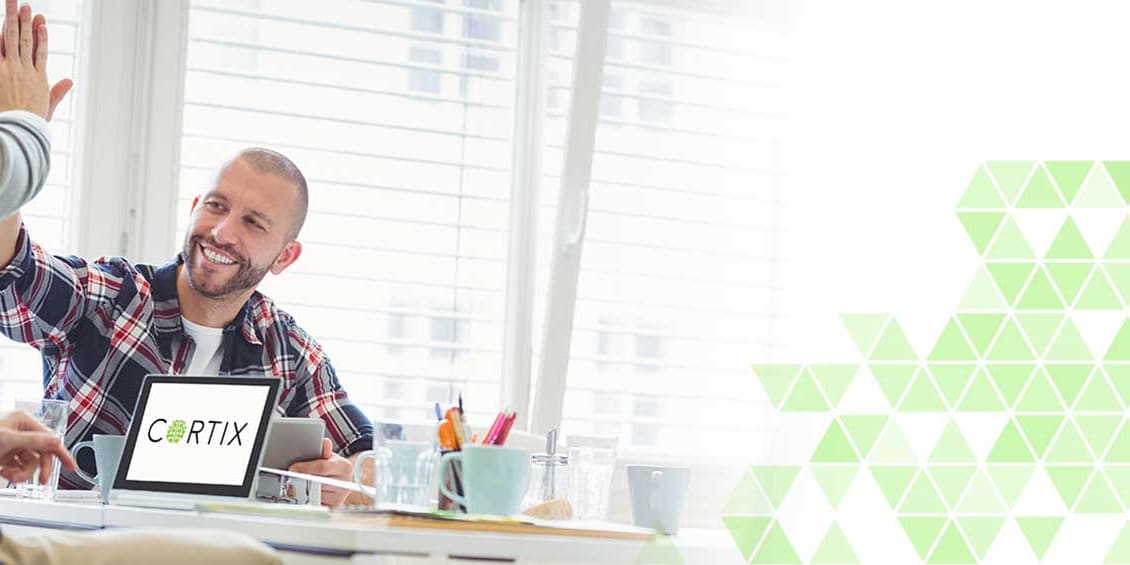 4 Things We Can Learn from Retailers Using the CORTIX™ Platform
Ashutosh Sinha